Bataclan "Ledge Girl" Survives After Dangling Outside a Window During Paris Terror Attacks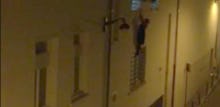 In viral video footage from the terrorist attack on the Bataclan concert hall in Paris on Friday, a woman can be seen hanging from a second-story window of the theater while others flee the scene below her. The woman, whose identity was not immediately known, has been identified by the first name "Charlotte" after she survived the Islamic State group, or ISIS, attack, sources told ABC News.
ABC reports that the woman, who was reportedly pregnant, was unharmed after a man identified as Sebastien Besatti pulled her from the second-story window from which she was hanging. In the video, Charlotte can be heard screaming, "Please, please, I'm going to fall," and, "I'm pregnant," in French, according to ABC News. 
A journalist who lives in an apartment across the street from the Bataclan recorded a few minutes of the harrowing scene outside the theater. In the video footage, Charlotte begs those below her to help before a man later identified as Besatti rescues her from inside the building.
Warning: Some viewers may find the footage in this video to be disturbing. 
Friday's hostage situation at the Bataclan was one of several simultaneous attacks carried out in Paris by terrorists. At least 129 people were killed, and several hundred others were wounded. 
French president François Hollande called the carnage an "act of war" before launching an airstrike on several of the terrorist group's headquarters in Raqqa, Syria, on Sunday. An alleged mastermind has been named,  27 year-old Belgian Abdelhamid Abbaaoud, as officials conduct an intense manhunt for the attackers.