This App Finds You Nail Polish to Match Literally Any Color Around You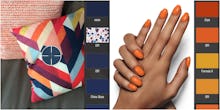 When it comes to picking the right nail polish color, we know it when we see it. The teal with just enough blue in it, the red with a hint of orange but not too much — finding the perfect shade is of the utmost importance.
Yet shopping for nail polish at a drugstore or nail salon, where the selection is limited, can be tough. How do you know if there's a color out there in the universe you're missing? 
A new app called ShadeScout Nails promises to change that with the help of your phone's camera and an endless library of nail polishes. 
The app, which is currently free for download on the iPhone, finds you relevant nail polish colors based on any color in a photo you take. Just train your camera on a scene or object and zoom in on a color in that image. Tap on the color, and ShadeScout Nails will pull up relevant nail polish colors from 25 different companies, like OPI and Essie, that match the color.
Beware: Wandering around and seeing what nail polishes match every color of every item in your vicinity can get a little addictive.
Once you pick a color and corresponding polish, you can "try it on" by customizing your settings based on skin tone, nail length and shape, to better visualize how a color might look on you. 
If you're really into it, just click the shopping cart button to be taken to a retail site to buy the polish or tap to share a screenshot of your choice on social media (because no app is complete without a "sharing" option).
The app is created by FaceCake, a marketing company that's created virtual, app-ready technology that powers several fashion and beauty services, including ShadeScout, an app that helps users find makeup in different shades. If a person has both the nail and makeup versions of ShadeScout downloaded, they can search across platforms, Mashable reports.
"It's about personalization and helping shoppers find exactly what they are looking for," FaceCake CEO and founder Linda Smith told Mashable. "Wanting an instant way to translate brilliant real-life colors into direct product results, discovering new shades that are available for immediate purchase and to have that ability in a mobile app, were among the inspirations for ShadeScout Nails."
This level of customization and color matching is where beauty technology is headed, particularly when it comes to makeup. The recently released Melange app helps users find the perfect foundation to match their skin (using selfies, of course), and companies like Lancome are working on technology to better customize makeup shades for customers.
With nail colors, the sky is the limit. And in the era of Instagram #mani shots, it makes sense that we're so obsessed with nailing (sorry) the perfect color. 
h/t Mashable