Dixie Chicks 2016 Tour: Dates, Cities and Ticket Price Info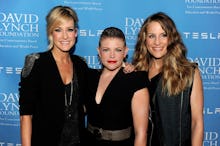 The Dixie Chicks have announced the dates for a 2016 U.S. tour, Rolling Stone reported. Previously, the pop country group had shared details for a European tour. From June to October, the band from Dallas is scheduled to perform in cities around the world. Here's a link to scheduled tour dates and corresponding links to buy tickets. 
Where the Chicks are headed next: Before touring the U.S. next summer, Dixie Chicks band members Martie Maguire, Emily Robison and Natalie Maines will take their act overseas. On May 4, the trio will perform in Dublin before returning to the U.S. on June 1 for a concert at Riverbend Music Center in Cincinnati. The group's final performance in the U.S. will be at Hollywood Bowl in Los Angeles on Oct. 10. 
The Dixie Chicks announced Monday via Twitter ticket pre-sales will begin Wednesday in the time zone of each performance venue. 
The group released its last full-length EP, Taking the Long Way, in 2006. Considering the time that's passed since the band's last new record, Dixie Chicks fans were thrilled, if a little surprised, to hear a tour announcement.
Here's the music video for "Ready to Run," which appeared on 1999's Fly.