Rhode Island Marijuana Legalization: Bill to Legalize Weed Could Go to Vote in 2016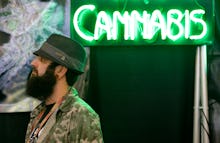 As marijuana legalization sweeps the nation, Rhode Island could very well be one of the next states to go green. Experts say the state is among several that may end marijuana prohibition in 2016. A bill to legalize marijuana in Rhode Island, introduced in the state Legislature in January, will likely be debated next year. 
"Regulating marijuana will take sales out of the underground market and allow authorities to keep tabs on the product," Rep. Scott Slater, Rhode Island state House sponsor of the Marijuana Regulation, Control and Taxation Act, said in March, according to the Huffington Post. "In a legal market, products are tested, labeled, and packaged appropriately, and consumers will not be exposed to other more harmful substances. Taxing marijuana will generate tens of millions of dollars in new revenue that can be invested in our communities."
In October, the Marijuana Policy Project reported that a majority of Rhode Islanders support legalization, with 57% of those surveyed saying they'd rather regulate marijuana than prohibit it. That's up from a 2014 poll Huffington Post reported on which found 53% of the state favored weed legalization. 
As support for pro-marijuana legislation grows across Rhode Island, politicians are also seeing an opportunity to grow the state's economy. 
"Marijuana prohibition is an ineffective and wasteful policy, and we cannot afford to ignore it any longer," state Sen. Joshua Miller said March 5 after he introduced a Senate version of the act, according to the Huffington Post. "The legislature is perfectly capable of creating a system that will work for Rhode Island."
Four states and the nation's capitol have ended marijuana prohibition and now allow the use of recreational weed. A total of 23 states have legalized medical marijuana so far, and a slew of upcoming legislation across the nation could make marijuana legal in Rhode Island and 10 other states.
Pro-legalization groups are also supporting the act in process in Rhode Island, saying it could provide job growth and an economic boost. 
"We want Rhode Island to be a leader on the East Coast and become an early adopter in order to get a competitive edge in the regional market to maximize job creation, tax revenue, and business growth in our state," Jared Moffat, director of the marijuana policy reform group Regulate Rhode Island, told the Huffington Post.