Tears of Joy Emoji Wins Word of the Year—See Which Words It Beat Out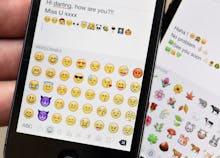 The Oxford Dictionary's 2015 word of the year was awarded to something that isn't necessarily a word, though it definitely paints a picture worth, perhaps, a thousand or so of them. The "tears of joy" emoji face — featured, among other places, in a keyboard on Apple's iOS platform — is just one of the many cartoon facial reactions used since the late 1990's being honored with this year's distinction.
The emoji beat out several words and phrases, including "refugee," "lumbersexual," "on fleek," "Dark Web" and "sharing economy." 
The Oxford University Press dictionary has awarded other questionable terms in the past: in 2012, it was "GIF," which stands for "graphics interchange format" and is a popular form of communicating short, punchy messages, often by Kim Kardashian or other celebrities. In 2013, it was "selfie," when a wave of duck faces and peace signs flooded social media around the world. Last year saw the honor go to "vape," as the device meant for smoking tobacco but coincidentally purchased by weed smokers became a trendy, hot commodity.
Although some will say several of the other words on the Oxford University Press short list — and a slew of words actually included in the Oxford Dictionary — would have made a better recipient of the award, Oxford University Press noted the growth of the emoji's use in conversation in a joint study with mobile technology company SwiftKey. According to their findings, the "tears of joy" emoji comprises nearly 20% of all emoji use across the U.K. and U.S. in 2015.
The publishing company and several others immediately celebrated the announcement with cake, memes and, you guessed it, emojis: