These Pink "For Her" Pencils Are Pissing People Off, Unsurprisingly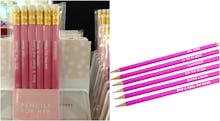 If you thought something as innocent and boring as a pencil couldn't piss anyone off, well, you'd be wrong. A set of pink pencils by stationer Abigail Warner is ruffling feathers. Currently for sale by British retailer John Lewis, the fluffy, pink pencils feature catchphrases like:
"Girl Boss"
"La Vie en Rose"
"Glamorous"
"Buy the Shoes!"
Those cheeky slogans drew attention on Monday, when the online women's magazine Standard Issue issued a sarcastic takedown, addressed "Dear John (Lewis)...":
Thanks so much for the new range of pencils designed especially for women ... 
The takeaway, in case "John" didn't take the time to read: Stop patronizing women with their own "special" products, particularly ones that play on trite female stereotypes.
There were some people on Twitter who felt the same.
Of course, as Mashable noted, not everyone is so angered by the pencils:
In the grand scheme of feminist debates, pink pencils is a small one. But it does raise questions about the necessity of gendered products, particularly "for her" products that aren't inherently used any differently by women than they are by men. 
Calling a product "for her" when the only difference is, say, the color is difficult to justify. (Recall the hilarious backlash when Bic rolled out a line of "for her" pens, complete with "a diamond-engraved barrel" and a slender hexagonal barrel "for better handling for women.")
Even with toiletry items, plenty of products are unnecessarily gendered in order to simply reaffirm gender stereotypes (women like floral smells, while men need a scent that's literally called "Champion") or to find ways to charge women more (thanks, pink tax). Slogans like "buy the shoes," which play into stereotypically female traits, don't exactly help. 
For what it's worth, there is a male version of the pencils — and they cost exactly the same.
h/t Mashable