Marijuana Legalization in Maryland: Latest on the State's New Medical Marijuana Program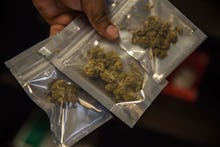 In Maryland, the latest official advancement of the fight for marijuana legalization was in September, when Gov. Larry Hogan passed legislation that makes it easier for patients to obtain the drug for medical purposes — but the state's medical marijuana program is now delayed, the Baltimore Sun reported Friday. Furthermore, as of now there is no formal plan to vote on the legalization of recreational marijuana during the state's 2016 elections. 
"We've seen that there's an incredible amount of interest for the industry to come to Maryland," Hannah Byron, head of the Maryland Medical Cannabis Commission, told WBAL-TV 11 in an interview Sunday. When the state legalized medical marijuana in 2013, only teaching hospitals could distribute it. Under the new Maryland Medical Marijuana State Program, there can be 94 licensed medical marijuana dispensaries throughout the state and 15 production sites, the Washington Post reports.
According to the Baltimore Sun, Maryland officials said on Thursday that the program will be delayed while the Maryland Medical Cannabis Commission deals with an overwhelming number of license applications. While officials originally said dispensaries would open by the end of 2016, the chances of that happening are now slim. The state will grant preliminary licenses in mid-January, per the Baltimore Sun.
On the recreational marijuana front, there hasn't been much action in Maryland compared to other states like Ohio, where a new initiative to legalize recreational marijuana sprung up after one was shot down on Election Day in November; Nevada, where voters will decide on legalizing recreational pot on Election Day 2016; and Arizona, where a pro-legalization group has collected two-thirds of the signatures it needs to get recreational marijuana on the ballot in 2016.