'SNL' Announces Ryan Gosling, Tina Fey and Amy Poehler Among Hosts for Final 2015 Shows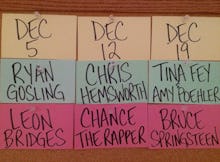 Saturday Night Live looks like it's ending 2015 on a strong note, bringing back comedians and former SNL stars Tina Fey and Amy Poehler as the show's hosts for its last show before Christmas, airing Dec. 19 on NBC. The show's Twitter page announced the final three show's hosts and musical acts.
The tweet reads, "December is looking good. #SNL," along with an image of index cards revealing the names of the forthcoming actors and musicians.  
Ryan Gosling will take the stage as SNL's host on Dec. 5, along with artist Leon Bridges performing. Chris Hemsworth joins the show Dec. 12, and Chance the Rapper will also be joining him with a performance likely from his new musical project Donnie Trumpet and the Social Experiment. On Dec. 19, Fey and Poehler will return to Saturday Night Live with Bruce Springsteen as the musical act.
SNL has already had a widely discussed season, covering the 2016 presidential election, offering the show's solidarity with Paris in the wake of Friday's deadly terror attacks and having a series of notable guests, from Republican presidential hopeful Donald Trump and Miley Cyrus to Adele, who joins the program Saturday night.