Marijuana Legalization Massachusetts 2016: Latest on State's Effort to Legalize Marijuana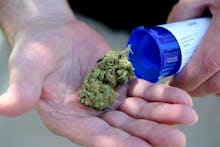 According to the Marijuana Policy Project, Massachusetts could consider completely decriminalizing cannabis in 2016. Bill H.1561, which Rep. Dave Rogers and Sen. Patricia Jehlen co-introduced in March, would reorganize the laws in Massachusetts to regulate marijuana more like alcohol. But for the time being, Massachusetts has only decriminalized cannabis for medicinal purposes.
Despite the laws in place, a majority of Massachusetts' voters favor the legalization of marijuana, according to a February 2014 joint poll by Suffolk University and the Boston Herald: 53% of Massachusetts voters expressed support for legalizing cannabis and 37% opposed the proposition.
Yet in Massachusetts, marijuana laws could change drastically according to estimates from 24/7 Wall Street, a financial trade publication. Based on the comparable evolution of cannabis laws in Alaska, Colorado, Oregon and Washington state, where recreational marijuana is legal, 24/7 Wall Street estimates as many as 11 states (including Massachusetts) could completely legalize cannabis in the near term. 
The prediction is based on how laws are evolving in similar states and recent legal efforts to decriminalize cannabis. The other 10 — Nevada, California, New York, Vermont, Minnesota, Connecticut, Maryland, Rhode Island, Maine and Delaware — have also shown similar processes that indicate they might legalize marijuana, according to 24/7 Wall Street. 
Though recreational cannabis is illegal in Massachusetts, medicinal marijuana is not. After a long approval process dating back to 2012, Massachusetts' first dispensary opened its doors on June 24 in Salam, according to Marijuana Policy Project. 
For the time being, the penalty for possessing marijuana intended for personal use in Massachusetts can be a fine from $100 to $2,500 or six months to two years in prison, depending on the amount in possession and previous offenses. 
To date, only four states have legalized the recreational use of marijuana: Alaska, Colorado, Oregon and Washington state. However, an additional 23 states and Washington, D.C., have decriminalized marijuana either for medicinal purposes or by lessening the severity of punitive possession laws.