Thanksgiving Eve Is the Best Night of the Year for Hometown Hookups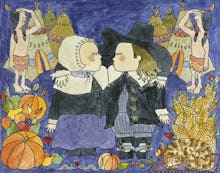 Thanksgiving Eve is an event worth celebrating in itself. The "best bar night of the year" (and often ranked the "busiest," ahead of St. Patrick's Day and Cinco de Mayo), it's a night to paint your hometown red, a night to party until the possibility of a Thanksgiving morning hangover becomes all too real, a night to kick off a four-day weekend by reconnecting with old friends.
Also: It's a night to get laid.
Whether it's hooking up with your childhood next-door neighbor or finally seizing the opportunity to bang that brawny high school quarterback a decade after his last touchdown pass, Thanksgiving Eve is the perfect occasion to hook up with people from your hometown.
Alyssa, a 28-year-old New Yorker, recalled that one of her best "conquest memories" took place on a Thanksgiving Eve. "I went out to a nearby bar with a friend, knowing a lot of former classmates would be around," she told Mic. "He and I always had a silly crush on one another in middle school, but never did anything about it... He was a 'Cool Kid' and I definitely was not."
In Alyssa's case, sparks flew immediately after she became reacquainted with her long-lost crush. "Shortly after making eye contact in the bar, we were furiously making out in the parking lot," she said. "12 year-old me would not have predicted that in a million years."
According to a 2011 post written by HowAboutWe's Cass Colin in Glamour, Alyssa played her Thanksgiving Eve hookup game just right. The list of "5 People You Shouldn't Hook Up with Over Thanksgiving" includes your ex, a recently divorced step-relative ("Gross! Unless he's Paul Rudd this is not Clueless") and "the townie you somehow never knew."
But of a "lifelong crush," Colin wrote: "Do that. Then get out of there. You finally won. Maniacally laugh the entire plane ride home. You won, my friend!"
Thanksgiving Eve hookups aren't always so simple and uncomplicated, though — especially when modern-day dating technology gets involved. 
Harrison*, a 26-year-old gay man from Missouri, told Mic that after he used Grindr to facilitate a Thanksgiving Eve quickie with a hometown stranger last year, shit got weird when he came across a familiar face on the app. "I was still not out to my family at that point," he said. "But my cousin, [who was] also not out, found me on the app."
What followed was a "very awkward conversation" and an uncomfortable Thanksgiving outing. Harrison's story ultimately serves as a cautionary tale: If you use a location-based hookup app in your hometown, don't be surprised if you come across someone you might not want to see there.
But for other folks, like 22-year-old Monica* from Los Angeles, Thanksgiving Eve hookups can wind up happening even if you don't step foot into a bar or pull up a dating app. 
"[My childhood neighbor] called asking if we had gravy because someone was stupid enough to forget it," Monica told Mic of a Thanksgiving Eve hookup she had in college. So she went to drop off gravy and a pie, "because I'm a friendly neighbor, and you can't go to someone's house on Thanksgiving without a pie." 
Monica said that the dude's parents happened to be picking up family from the airport at the time, so what would have otherwise been an uneventful gravy-and-a-pie drop-off session soon escalated into something a little more steamy.
"We were talking about how [our lives were], he was showing me some of his photography, then asked to take a photo of me," she said. "Our Thanksgiving dress photo session turned into a Thanksgiving lingerie photo session, which then turned into a session on his bed."
"You can't go to someone's house on Thanksgiving without a pie." 
So why is Thanksgiving Eve such an optimal time for hometown hookups as opposed to, say, Christmas Eve, or New Year's Eve? While it might not come as a surprise that research has yet to confirm that the Thanksgiving Eve hookup is, in fact, a thing, anecdotal evidence and the fact that it's the biggest bar night of the year suggest that a combination of alcohol and nostalgia play a role. If you're young, drunk, horny and in town for a four-day weekend, Thanksgiving Eve could very well be a chance to play out all the sexual fantasies you were too scared to act on in high school. The knowledge that you have a few days to wrestle with your hangover and/or possible feelings of regret and shame also probably helps.
So if you're looking to score the night before the big day, odds are there's no shortage of options in your hometown, particularly if you choose to get boozy. If you're not looking to get laid on Thanksgiving Eve, then, well, you may want to consider straight-up hibernating for the night. And definitely don't make any last-minute gravy deliveries.
*Names have been changed to allow subjects to speak freely on private matters.