'Better Call Saul' Season 2: Premiere Date, Plot Info and Trailers For Show's New Season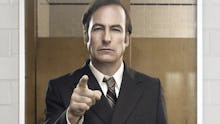 Better Call Saul is returning to AMC for a highly anticipated second season after the Emmy-nominated show was the highest-rated new series on cable TV in its first season. According to Variety, the critically acclaimed TV show will premiere Monday, Feb. 15, at its normal time, 10 p.m. Eastern. 
The first trailer for the newest season of Better Call Saul was released on AMC's YouTube channel on Nov. 5. 
The Breaking Bad spinoff raked in an average of 5.9 million viewers in its first season and received seven Emmy nominations. Better Call Saul's lead actor Bob Odenkirk also won the Critics' Choice TV award for best actor in a drama, Variety reports.
The cast and producers revealed in a video posted to AMC's YouTube channel in April, during production of the second season, the show's characters will get closer to Saul, the attorney and criminal whom the show revolves around, in the return of the series. 
The show's stars say Saul will be developing more into the character he was in Breaking Bad, possibly foreshadowing an abandonment of his daily responsibilities and an increase in mischief. 
The show has been promoting the newest season on Twitter with new videos and promotional photos of Better Call Saul's stars in the months leading up to the premiere: