Meet the Alaska Mom Who Makes Disney Princess Wigs for Kids With Cancer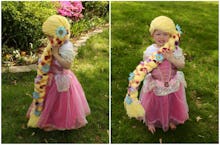 As a mother of three, Holly Christensen is well aware of how much little girls love Disney princesses like Elsa and Ariel. And as a nurse who has specialized in cancer, she knows just how hard it is for a cancer patient to lose their hair. 
So when one of Christensen's friend's daughter, Lily, was diagnosed with cancer at just 2 years old, Christensen knew what Lily would really want. Apart from the love and support of her family, she knew that Lily still wanted to be a child. Lily wanted to dress up. Lily wanted to be a princess. Lily wanted to be imaginative. 
To make sure Lily got exactly what she wanted, Christensen made her a long, blonde Rapunzel wig out of braided yarn. 
Kids giving other kids a bit of joy: When Lily received her gift in March, Christensen told Mic, she flipped. So much so that Lily's mother immediately insisted that there are a lot of little girls out there who'd love a wig just like Lily's. Chemotherapy makes a patient's scalp super sensitive, so the wig's soft yarn was perfect. 
More importantly, it helped Lily feel like the normal little girl she is again.
At first, Christensen thought of it as a small business, "just a few friends making some wigs," she told Mic, but the Internet had different plans. After posting on Facebook asking for yarn donations in September, she was flooded with donations and volunteers. With the help of her friend and now business partner, Bree Hitchcock, Christensen set up a GoFundMe page and dubbed the endeavor the Magic Yarn Project. 
In the course of two months, it's raised more than $23,000 dollars and counting.
More crucial than the money are the volunteers, many of whom are kids or teens. In October, Christensen held a first workshop where 50 volunteers learned how to make the wigs, from what sort of yarn to use to what knots work best to replicate the look of hair and how to decorate a wig that's princess-ready. 
The wigs start as acrylic knit beanies, many of which are donated, then get long strands of yarn sewn into and on top of them. 
So far, the project has four Disney princess-inspired styles for girls to choose from: Elsa's long white braid and crown from Frozen; auburn pigtail braids like Frozen's Anna; Rapunzel's long golden locks from Tangled; and Ariel's signature fiery 'do from The Little Mermaid. 
Christensen's team of volunteers has also produced a specially-ordered rainbow wig and wants to start offering a piece styled like Princess Jasmine's hair in Aladdin. 
"So many girls love dressing up, and they admire the Disney heroines," said Christensen. "They're strong, courageous young women, and they're their role models. During a time that's difficult for them, what's better than putting on a wig and being like 'I'm so strong and confident and I can overcome these odds!' It helps girls transform into an imaginative state that they so often lose by going through something so devastating."
Offering the princess fantasy for free: The wigs provide joy in the simplest ways — and for next to nothing. Each wig costs between $15 and $20 to make, before shipping, but the recipients are charged nothing. Each of the wigs are sent free to the little girl who needs it with a handwritten card.
"We received a video and pictures of a little girl who, when she received one of her Ariel wigs, ran in to put on her 'Spin dress' so she could spin around with her hair flicking around," said Christensen, who still works part-time as a nurse. "And she just looks like a normal little girl again. It must have been so nice for her parents to see that little girl again."
Christensen says that the Magic Yarn Project has so far produced about 100 wigs, but since officially launching in September, Christensen has a wait list with between 100 to 200 kids on it, in addition to hospitals who have asked for 50 or more for their patients. 
But the plan is to expand, which will include shooting an instructional video for people to create the wigs themselves (to then send to Christensen in Alaska to ship), and for more people to hold workshops in their regions. Christensen even got manufacturing help from women in a local women's prison, with another prison in Utah interested.
"We're creating communities that bind people together," Christensen said. "We forget about our differences. The girls win because they get these beautiful wigs and the communities win because we get better communities."
And the rest of us take in the adorableness online, where the sheer joy of a little girl dressed as Elsa is enough to leave you smiling. 
"We recognize that there are thousands of little girls that get diagnosed with cancer every single year," she said. "Twenty thousand dollars won't even make 1,000 wigs so we need as much help as possible. What we want to do is give every girl around the world a little bit of magic."