Gay YouTuber's Body-Positive Underwear Ads Prove You Can Be Sexy at Any Size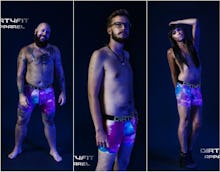 Davey Wavey, the self-described "globetrotting gay YouTube personality" turned underwear entrepreneur, has unveiled the latest collection of his DirtyFit underwear line: the Cosmic Collection. As evidenced by the starry blue and purple designs, the theme is outer space-y. But there's another layer of meaning to the theme: The underwear are made for "all humans," meaning every kind of body — regardless of shape, size or gender.
"Part of making the best underwear means creating underwear with a purpose," DirtyFit notes on its Kickstarter page, which has been around since the brand launched in November 2014. "The Cosmic Collection is modeled by transgender and gender nonconforming people because it is made for every body in the universe."
The underwear "models" include Love Banks, Topher Gross, Nate Evertsen, Kevin Markman-Lopez (Lilou Multipass), Hans Rasch, and all embody their own form of independence and lack of categorization. 
"I don't have to listen to what society says about me and I can just be myself. I can be both masculine and feminine," one of the models in the video says. "Some days I don't have to be either. I can just wake up and be human."
That beyond-gender ethos is embodied in the images but also in the underwear themselves. The stretchy boxer briefs leaves room for a "package," but is otherwise not aggressively "manly" in style, nor is it frilly and feminine. 
There are some who might be skeptical of the empowering, body-positive stance from the likes of Davey Wavey, who, as Queerty noted, is "known for frequently showing off his shirtless chiseled exterior" and tends to showcase a very certain body type on his fitness website — one that many men find hard to live up to. 
But positive and inclusive is where underwear is at these days, at least for the smaller, indie brands. More and more small lingerie brands are reaching out to customers who wear bigger sizes or prefer a less gender-specific style. Brands are also creating lingerie specifically designed for customers who have their own unique needs, such as women who have undergone mastectomies.
The ads that accompany these undergarments are getting more inclusive too, with more diverse body types and sizes — a much-needed antidote to the images of waifish Victoria's Secret models we've seen for so long.
Check out Davey Wavey's latest foray into the indie underwear space:
h/t Queerty