Oprah and Shonda, Modern-Day American Goddesses, Have Some Thoughts About Marriage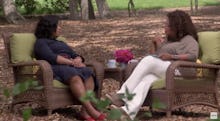 Contrary to the plot of many a rom-com, the institution of marriage is not for everyone.
Specifically, it's not for wildly successful showrunner and empress of ShondaLand, Shonda Rhimes. In a recent interview for the OWN Network, the creator of Scandal (and writer of the sacred and brilliant Britney Spears film Crossroads) told fellow goddess Oprah Winfrey that it took her some time, but she has finally embraced the fact that she simply doesn't possess the marriage gene.
In fact, Rhimes said it was "really freeing" when she "was able to finally sort of stand up and say, 'I don't want to get married — at all.'"
"[Saying out loud that you don't want to get married] feels obvious. ... But if you're a woman in your thirties or forties, that's a big deal," Rhimes told Winfrey. "Everybody's asking you all the time if it's gonna happen, when it's gonna happen. If you're dating anybody, they're definitely asking you about it."
She added that "there's a huge amount of pressure" on women to take the marital plunge. "And the desire to want to get married, it's a lot like the desire to want to have children in our society," she said. "Like, you're supposed to want it. And if you don't want it, what's wrong with you?"
Oprah herself is in a committed relationship with longtime partner Stedman Graham. But she's also gone on the record saying that she doesn't want to get married because it's a lil' too traditional for her taste. That's why she responded to Rhimes' declaration with an impassioned yet serious "Yeah!" of approval, as only Oprah could do.
Oprah then told a fascinating tale about how she and Stedman actually did plan on getting married way back in 1993, but then the wedding itself conflicted with the press tour of a book O was promoting at the time. 
"We were on our way from the book party, and Stedman said he did not want to have his wedding disturbed by all these people asking me about the book," Oprah said. "And I said, 'OK, all right.'" They decided to postpone the wedding, but eventually they both ended up dropping the ball entirely. At the end of it all, Oprah whispered, "What I realized is: I don't want to be married."
"See?" Shonda replied. "There's a freedom!"
Rhimes and Winfrey aren't alone in this club of women who are eschewing marriage. Just last year, the Pew Research Center reported that "after decades of declining marriage rates and changes in family structure, the share of American adults who have never been married is at an historic high."
This aversion to marriage can be attributed to a number of factors. While some people simply enjoy the freedom that comes with not being in a committed relationship, some are delaying marriage to focus on their careers, some are averse to the traditions surrounding the institution, while others still are just like, "LOL, men are boring." 
As for Rhimes, she told Winfrey that she didn't feel she'd have enough "room" in her life for a husband. Can't argue with that, amirite?
Watch a clip from the interview below:
h/t the Huffington Post