Jennifer Lawrence Plays Prank on Smosh in Hilarious New Video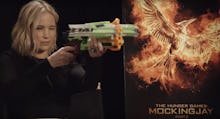 What happens when you try to prank Jennifer Lawrence? She pranks you back even harder with Liam Hemsworth and Josh Hutcherson. In a video posted to YouTube, sketch comedy duo Ian Hecox and Anthony Padilla, who go by the name of Smosh and perform prank interviews with celebrities, use their normal routine on the 25-year-old Hunger Games star but with a twist: J-Law is in on the joke and counterattacks with her own sneaky prank.
"Well this is why you won an Oscar, and I didn't," Hecox says to Lawrence after her successful reverse prank. In the video, the actress hooks herself up with a secret earpiece that allows her fellow Hunger Games leads to feed her directions while Smosh thinks she's being successfully fooled. 
Lawrence is told to be rude with the interviewer (Hecox), so she immediately whips out her phone and comes off as cold and arrogant. At one point, the actress shoots Hecox directly in the face with a Nerf gun after completing a trivial challenge, then walks off the interview set after scolding him for taking off his shoes. 
"Do you not feel like, in a professional situation, you should maybe stay fully clothed, just out of respect for the person who you're interviewing?" Lawrence asks, causing comedians Hecox and Padilla to begin panicking. "I just feel like this is a waste of everybody's time, I'm sorry, I feel like you're not really a professional." Lawrence rips off her microphone and exits the room, leaving Hecox clearly frazzled.
By the time Hemsworth and Hutcherson confront Smosh after Lawrence's interview, it appears the comedians finally understand what has happened on this fateful day: The prankee has defeated the pranker.