Cyber Monday 2015 Tech Deals: Best Discounts on iPads, Smartphone Accessories and TV's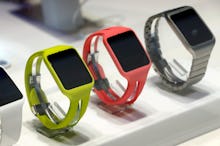 Black Friday and Cyber Monday, two of the biggest shopping days in the U.S. are just on the horizon. This year, the in-store and online shopping sprees will fall on Friday and Monday, respectively. Cyber Monday, in particular, boasts some steals for consumers in the market for tech products. Here's a roundup of some of Cyber Monday's tech deals this year.
Apple iPad Air 2
This year, shoppers will find discounts on Apple's iPad Air 2 of around $100 to $150, according to USA Today. Some retailers, like Target, are offering the iPad Air 2 as part of a bundle. In a press release, Target also said it will offer shoppers 15% off all merchandise online during Cyber Monday. For a more affordable option, Staples will sell the Apple iPad released last year for about $320. 
Samsung TV Deals
At Target, 48" Samsung 4K Ultra HD TVs will be priced at $599.99, with the addition of a free $100 Target GiftCard (effectively cutting down the price to $499.99). Best Buy will also boast some big discounts on Samsung TVs during Cyber Monday this year, per BGR. The 65" Curved 4K Ultra 3D Smart LED HDTV will be discounted by $800 to $2,999.98 and the 60" Class 4K Ultra HD TV will be discounted by $600 to $1,199.99.
Wearables
Online shoppers looking for Cyber Monday deals on wearables should head to Amazon, as the online retail giant will offer 30% discounts off the Mira Wellness and Activity Bracelet, a wearable that usually sells for $169, $40 off the Motorola Moto 360 Smartwatch, typically priced at $250 and $35 off Sony's SmartBand 2, which is normally sold for $130, according to Cnet. For final pricing on the Apple Watch, head to Amazon's Cyber Monday page. 
Headphones
Shoppers in the market for a pair of Beats by Dre will find discounts at Staples. The retailer is offering Beats by Dre Wireless Headphones at $184.95, marked down from $279.95. Staples will also mark down the Beats by Dre Tour In-Ear Headphones from $149.95 to $99.95 during Cyber Monday. Over the ear noise canceling headphones by Beats by Dre will be available at Staples for $169.95, marked down from $299.95.
Accessories
Best Buy is the best bet for tech accessory deals during Cyber Monday, particularly in the smartphone case department. The big-box retailer will offer 20% off all Case-Mate Cases, 25% off Adopted Cases, and 25% off Tech21 cases. Otterbox cases for select iPad models will also be sold at a 40% discount.