Here's Your Black Friday 2015 Xbox One Deals, Including Best Prices, Ads and More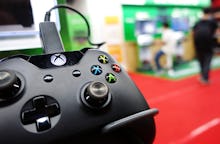 Gamers, tech lovers and Black Friday shoppers are in for a treat this year: Stores nationwide are revealing holiday sales on major gaming consoles, including the Xbox One, which first debuted in 2013. 
The device is often ranked as one of the most advanced and entertaining systems of its kind, and it will be sold in a number of different packages and deals for the holiday season during the United States' biggest shopping day.
The best Xbox One deals out there: Fans of Xbox One who purchase the 500-gigabyte version of the latest device through one of Microsoft's partners (Target, Best Buy, Hhgregg and Gamestop) will also receive a downloadable copy of the highly anticipated action game Gears of War: Ultimate Edition all for $299.99, according to Indystar. That's $50 less than the $349.99 figure Xbox decided to leave the gaming system's price tag at after last year's Black Friday deals. Target is also offering a $60 gift card on purchases of an Xbox One bundle, which essentially would allow gamers to purchase an additional game with their console at no additional out-of-pocket cost.
Xbox One online deals: For anyone wishing to order a new Xbox console from the comfort of their homes, Amazon is offering a Black Friday bundle deal through midnight Saturday which includes a number of popular Xbox games along with the new software. Customers who purchase the Xbox will be able to choose from a number of new releases, including Rise of the Tomb Raider, Halo 5: Guardians, Gears of War and Fallout 4.
Polygon reported this exclusive Amazon deal costs just $325 — only slightly more expensive than the in-store purchases available at Target, Best Buy and others, but the device comes with several more video game options, which each typically cost somewhere around $50.