These Refugees Turned America Into the Toxic Hellscape It Is Today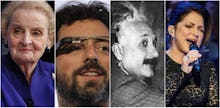 In the wake of Friday's terror attacks in Paris that claimed the lives at least 129 people, U.S. governors have been swift to voice their opposition to President Barack Obama's pledge to resettle at least 10,000 Syrian refugees within the United States in 2016.
In a statement released Sunday, Republican Alabama Gov. Robert Bentley outlined the specific reason for his concerns. "As your governor, I will not stand complicit to a policy that places the citizens of Alabama in harm's way," he said.
Bentley is part of a growing resistance to Obama's initiative, despite the fact that lawmakers don't technically have the outright legal authority to veto refugee resettlement programs.
If you, like Bentley, are concerned with the threat refugees pose to national security, read on. Here are five examples of former refugees who were similarly hell-bent on dismantling the fiber of American morality.
1. Madeleine Albright
The former secretary of state was born in Czechoslovakia before she and her family fled to the United States to escape Adolf Hitler's reign. During a panel at Mashable's Social Good Summit in September, Madeleine Albright said the United States hasn't done enough to help the refugees seeking asylum within its borders. 
"I think we are a large and generous country, with a real reputation always for welcoming people ... given the scale of the numbers [of refugees], and our capability, I don't think we're doing enough," she said on the panel.
2. Albert Einstein
To compare Albert Einstein, the German-born Jew best known for authoring the general theory of relativity, to a genius is a ubiquitous part of American culture, but his history as a refugee is less well-documented. After abandoning his native country in 1933 to avoid Nazi persecution, Einstein lived and worked for the remainder of his life in Princeton, New Jersey. 
"I am privileged by fate to live here in Princeton," Einstein said of his new home. "In this small university town the chaotic voices of human strife barely penetrate. I am almost ashamed to be living in such peace while all the rest struggle and suffer."
3. Gloria Estefan
When she was 3 years old, Gloria Estefan left Cuba with her mother to escape Fidel Castro's regime. The pair were eventually joined by Estefan's father, and she grew up to become a Grammy Award-winning singer and one of the most famous crossover artists of all time. 
"When I first came to Miami, you'd see signs like 'No children. No pets. No Cubans.' We were a major threat," Esteban told Entertainment Weekly about the discrimination her family faced stateside in the 1960s.
4. Meb Keflezighi
Just days after Boston marked the one-year anniversary of the 2013 marathon bombings, Meb Keflezighi, a former Eritrean refugee, crossed the finish line as the first American man to win the race in 30 years. After his victory, Keflezighi told USA Today that the crowds gathered on the street had given him the strength to win by chanting "U-S-A" as he crossed the finish line in a red-and-white-striped shirt and blue shorts. 
"As an athlete, you have dreams, and today is where the dream and reality meet. I was just crying at the end. ... I take so much pride in being an American," he told USA Today.
5. Sergey Brin
Sergey Brin was 6 years old when his parents, terrorized by anti-Semitism in Soviet Russia, decided to risk everything for a chance at a better life for their children. With the help of the Hebrew Immigrant Aid Society, a resource for Jews facing persecution, the family was able to obtain visas and escape the country in 1979, eventually resettling in Maryland. Brin went on to co-found Google and is currently the sitting president of its parent company, Alphabet.
It's hard to argue against the positive net effect Brin's contributions have had on the United States: In addition to being consistently voted one of the best places to work, Google employs over 57,000 people, according to Business Insider, in addition to providing services we now consider necessities (think YouTube and the Android operating system). Forbes lists Brin's net worth as $29.2 billion, making him the 20th-richest person in the world.
Although these famous examples were cherry-picked as easily accessible proof of the benefits amnesty from violence can have, all refugees deserve to be seen through a humanizing lens. Regardless of their star potential, granting individuals the chance at a bright future can do more than change the course of one life — it can change the course of history.