Bobby Jindal Drops Out, Becoming the Third Casualty of the "Crazy" Republican Primary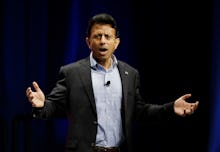 And then there were 14.
Policy wonk and longshot Republican presidential candidate Gov. Bobby Jindal of Louisiana suspended his campaign for the White House on Tuesday evening, a mere 146 days since he announced his candidacy. Jindal, the first Indian-American governor in the United States and the first to seek a major party's presidential nomination, made the announcement on the Fox News program Special Report With Bret Baier.
"It has been a great honor for me to run for president of the United States," Jindal told Baier during the primetime interview. "This is not my time. I've come to the realization that this is not my time, so I've come here to announce that I am suspending my campaign for president of the United States."
When asked why his candidacy didn't take off, Jindal blamed a lack of appetite for his brand of policy-focused campaigning among voters. "You know, Bret, we spent a lot of time developing detailed policy papers," he said. "Given this crazy, unpredictable election season, clearly there just wasn't a lot of interest in those policy papers."
Another one bites the dust: Jindal is now the third casualty of the most crowded primary in modern American history, having never found his foothold in a field where first-time candidates like billionaire Donald Trump and former pediatric neurosurgeon Dr. Ben Carson have grabbed the majority of headlines and donor dollars. Jindal follows fellow state executives Gov. Scott Walker of Wisconsin and ex-Gov. Rick Perry of Texas in announcing the suspension of his campaign.
Despite the high national profile that accompanied his landmark election in 2003, Jindal had difficulty escaping the bottom tier of candidates, never managing to clear 5% in national polls or to appear in a primetime Republican presidential debate. Jindal's presidential campaign had a mere $261,000 in cash on hand heading into October, and brought in an anemic $579,000 in the third quarter of 2015.
As for his future plans, Jindal plans to put those policy papers to good use. "I'm gonna go back to a think tank called America Next that I set up a few years ago to develop these policies," Jindal told Baier. "Let the left be about division and redistribution — we need to be about growth, we need to be about specific solutions."
Get the news everyone's talking about delivered straight to your inbox every morning by signing up for MicCheck Daily.