These Women Are Taking Ownership of Their Scars With Beautiful Tattoos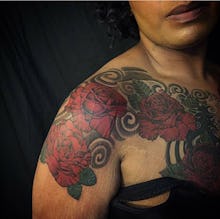 Sometimes a tattoo is just a tattoo. Sometimes you just feel like getting a number inked onto your wrist or a bird tattooed on your shoulder. Other times, the ink means much more than that. 
Because tattoos can be a way to heal and move on, people who want to cover up scars have been looking to them for help. Although some are happy to embrace the deep lines on their skin that set them apart, others would rather take the scars they dislike  — such as scars from cesarian sections, mastectomies, burns, botched plastic surgery or domestic abuse — and replace them with a piece of art. 
With these tattoos, it's about changing the dialogue from "What happened to you?" to "Wow, that's beautiful."
"When the tattoo's finally done, they don't have to worry about the world at large seeing what was once there," Richmond, Virginia-based tattoo artist Amy Black told Mic. "That's the most beautiful part. They can finally live." 
So to get a real sense of what these tattoos really mean, Mic spoke to several people who have gotten tattoos either over their scars or in honor of them. Here are their stories: 
Healing from the pain of domestic violence: For years, Jane Lopez didn't feel like herself. She couldn't look in the mirror without having flashbacks to terrible memories, and when people got a look at her chest, they would frown. The first, middle and last name of her abusive partner who pressured her into getting the poorly-done tattoo as a threatening tactic. 
In the "industry" of scar tattoos, covering scars from domestic abuse isn't all that uncommon. Just recently, a tattoo artist in Brazil named Flavia Carvalho made headlines when she started offering free tattoos to cover scars for domestic abuse survivors. In an interview with the Huffington Post, Carvalho said that she wanted every tattoo to "act as an instrument for empowerment and a self-esteem booster."
That's what Lopez wanted too. In 2014, she felt the only way to really get rid of any trace of her ex was to tattoo over the whole thing and create art out of her pain. It wasn't going to just be about a pretty design, but truly a way to move on.
"I wanted to look like me again," Lopez told Mic. "I wanted to look in the mirror and see me." 
Covering up something as painful as domestic abuse scars is a deeply personal process — and in this case, requires a tattoo artist who understands the emotion behind the decision and can be supportive. That summer, Lopez walked into Holly Feneht's Gilded Lily Design shop in Santa Clarita, California, and immediately knew Feneht was the one to do it.
As a tattoo artist who also specializes in covering scars related to mastectomies, working at a parlor that specializes in paramedical tattoos, Feneht is skilled in the art of being a part-time therapist and nurturer.
"For these types of tattoos, it's like you're reclaiming your body back," Feneht told Mic. "You want to make sure that this design speaks to you because it's all you. It's all about you." 
Ultimately, Lopez, 51, decided on a design she loves to this day that incorporates skulls, roses and butterflies. The tattoo ended up taking more than three hours and she was understandably emotional, but in the best way possible. 
"The second I got up and looked in the mirror, I said, 'Thank you, you helped me close the door that haunted me,'" Lopez said of Feneht. "You really need to find an artist you trust. You need to connect with an artist that makes you feel so safe because you're forever indebted to her. I look down and think of my strength, but also of Holly." 
Recovering from a dark period of personal pain: Tattoos seemed to be the appropriate solution for covering Karin Bristav's scars. A native of Sweden, Bristav's arms and wrists were marred with self-inflicted marks. In 2013, she began to consider covering her scars because, as she told Mic, "they just weren't me anymore."
"I was so excited, I wanted to tell everyone I know that I had the chance to look 'normal' again," Bristav said. "I almost cried with joy after my first sitting, being so relieved to finally be able to leave the past behind me." 
A community has formed of people who've tattooed themselves as a way to move past self-abuse. According to a report by Vice, there's a strong desire to cover up self-inflicted symbols of "a past that can be visible for the world to see years after you stop." There are entire Pinterest boards for so-called "recovery tattoos" to celebrate them as symbols of survival. 
In Bristav's case, getting a tattoo scar cover-up wasn't going to be that easy. Because her scars were both large and deep, tattoo artists were hesitant, as were the plastic surgeons she consulted. According to both tattoo artists Mic spoke to, tattooing over sensitive skin means being attentive and wary of things like infections. Because of Bristav's situation, she ended up having several consultations with her artists, tattooing just a bit at a time. 
"You have to be really careful about the healing process when you do the scars," Black told Mic. "That's the biggest concern because we never want to tattoo a scar too early, because that just means more pain and even sometimes more disfigurement." 
Fortunately for Bristav, the entire process was exhilarating. Over the past few years, she's expanded her design into an inked up garden up her arm complete with roses and skulls. 
"I like that in a place where I once sowed pain, I now grow beautiful roses," she said."
Now, people don't come up to her with concern, but instead with a compliment. 
"I will always love my tattoo and now people come up to me to comment on how beautiful and well-made it is, instead of asking about how I got my scars," Bristav said. "Nobody sees the scars any more, and I can choose to be the person I am today, instead of being stuck in the person I was in the past."
Coming to terms with the scars life gave you: For many individuals with scars, tattoos are attractive because they help them lay claim to their own bodies. The same went for 22-year-old Lindsay Kutner. Although her tattoos don't cover up the scars on her legs from being repeatedly bitten by chiggers and mosquitos as a child in Houston, she says her tattoos were a response to the scars. 
"For the first time, I got something on my body that I actually want, and something that wasn't just put there without my permission," Kutner told Mic.
"When you already have something on your body that you can't take off," Kutner said, the idea of tattoos isn't so intimidating. She got her first at 19 years old and now has three: a macaroni noodle on her bicep, the letter "P" on her wrist and a sketch of a house on her arm.
"It's a step to cover up the past and move forward," Kutner said. "To keep in control by putting something on your body that you want to be there."
Ownership is a big deal with these sort of emotionally-loaded tattoos. That also goes for women unhappy with their cesarian scars or the scars left after a mastectomy have been covering them up with the help of some ink. 
"Anything in that midsection region is a self confidence thing," Feneht said. "It's like, 'OK, I feel sexy again. I like looking at myself in the mirror naked."' 
For post-mastectomy tattoos, it's also about reclaiming the femininity they might feel like they lost during their many surgery. 
"These days, with my focus on breast cancer scars, it's about reclaiming their feminine identity, on their own terms," tattoo artist Stacie-Rae Weir, based in Calgary, Canada, told Mic. "Tattoos are the scars you choose. It's about empowerment, and putting the journey behind them by stating to themselves in the mirror daily, 'I won, take that!'"
Part empowerment and part self-love, these tattoos are the farthest thing from a reckless mistake. 
"It's about looking at yourself in the mirror and feeling good again," Jane Lopez said. "I really do believe that when somebody covers up a scar, they're taking their own life back."