President Obama Slams Republicans "Scared of Widows and Orphans" From Syria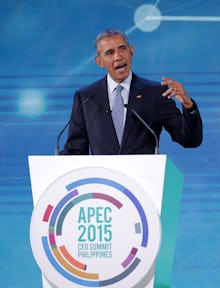 President Barack Obama offered a stern rebuke Wednesday to Republicans who have sought to obstruct the flow of Syrian refugees into the United States in the wake of Friday's terrorist attacks in Paris that left 129 dead and hundreds more injured. 
"Apparently they're scared of widows and orphans coming into the United States of America," said Obama, according to the Associated Press. 
Speaking from Manila, Philippines, after a meeting with Philippine President Benigno Aquino at the Asia-Pacific Economic Cooperation, Obama pulled no punches, saying that much of the rhetoric was the result of "political posturing" and that only admitting entry to Christian refugees was "offensive," "contrary to American values" and ultimately played into ISIS' strategy.
"When you start seeing individuals in positions of responsibility suggesting that Christians are more worthy of protection than Muslims are in a war-torn land, that feeds the ISIL narrative," Obama said, adding that it was "counterproductive and it needs to stop."
Obama, taking the unusual step of attacking his domestic political enemies on foreign soil, openly mocked Republican presidential candidates and, as he has in the past, skewered their purported "toughness" against some of their recent campaign issues. 
"First they were worried about the press being too tough on them during debates. Now they're worried about 3-year-old orphans," Obama said. "That doesn't sound very tough to me."
Since the attacks in Paris, dozens of governors — mostly Republican — have announced they would not accept refugees in their respective states, despite the general assessment by legal experts and the federal government they had no authority to do so. A number of presidential candidates like Ted Cruz and Jeb Bush have called for accepting Christian refugees only. In Congress, House Speaker Paul Ryan (R-Wis.) and Senate Majority Leader Mitch McConnell (R-Ky.) have "urged at least a temporary halt in the resettlement of Syrians," the Chicago Tribune wrote.
It's not the first time Obama has upbraided the GOP abroad over the refugee crisis. Earlier this week at the G20 Summit in Antalya, Turkey, Obama denounced the suggestion of "religious tests." "When I hear folks say, 'Well, maybe we should just admit the Christians and not the Muslims,' when I hear political leaders suggesting there should be a religious test for which person who's fleeing from a war torn country — that's shameful," Obama said. "That's not American. That's not who we are. We don't have religious tests to our compassion." 
Despite the outcry, the White House maintains it will move forward with a plan to accept 10,000 refugees by the end of 2016. Up to 100,000 are expected to relocate to the U.S. by the end of fiscal year 2017. 
Watch Obama's full remarks from Manila: