Paris Saint-Denis Raid: Latest News on Arrests and Paris Terror Attack Suspects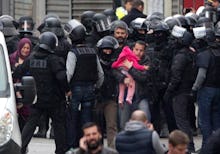 A suicide bomber detonated during a police raid Wednesday in Saint-Denis, a northern suburb of Paris, killing herself and one other suspect in Paris' terror attacks that killed 129 people, according to police. The early morning raids were conducted in an effort to hunt down multiple terrorists directly related to Friday's attacks, including the supposed mastermind of the operation, though French President François Hollande said Wednesday the suspect wasn't found in Saint-Denis, Reuters reports.
"We heard so many booms," 43-year-old resident Veronique Haounoh, who lives across the street from where the shootout took place, told NBC. "I'm shaking. We are very scared, I can't stop crying."
Gunfire erupted in an apartment in the Paris suburb at about 4:20 a.m. local time, Mic previously reported. Seven suspects were also arrested during the raids in connection to Friday's attacks. Five French police officers were injured and one police dog named Diesel died in the raids, NBC reports. 
Saint-Denis is a lower-income neighborhood comprised largely by immigrants from across the world, some undocumented, and was also the site of an attack on Friday when a suicide bomber detonated himself near the Stade de France. Hollande said Wednesday the raids were in part an effort to hunt down Belgian Abdelhamid Abaaoud, who is believed to have organized Friday's attacks, as well as to neutralize all other terrorists from the Islamic State, otherwise known as ISIS, which Hollande referred to on Friday as Daesh, according to CNN.
Jawad Ben Dow, who was letting the suspects stay with him, was one of the seven arrested. He said he didn't know of their connection to the terror attacks, after three were detained within the residency Tuesday morning. "Someone asked me to put two people up for three days and I did them a favor, it's normal," Dow told Reuters, NBC reports. "I don't know where they came from I don't know anything. If I'd known do you think I'd have done it?"