Wednesday Morning Police Raid in Paris Suburb Results in 3 Dead, 7 Arrested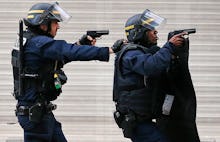 Paris — At approximately 4:20 a.m. local time, police raided an apartment in the Parisian suburb of Saint-Denis believed to be associated with suspects from Friday night's coordinated attacks.
Violence erupted when the inhabitants of the apartment retaliated, resulting in heavy gunfire and a detonated suicide belt. Two of the residents died and seven people were arrested, according to police. A third body was also later found at the scene.
Security forces were attempting to locate and detain Belgian Abdelhamid Abaaoud, the 27-year-old suspected of masterminding the Islamic State group's attacks.
Saint-Denis is a largely multicultural suburb, home to many undocumented migrants. It is also home to Stade de France, a large stadium and one of the sites of Friday's attacks.
The areas surrounding Place Jean Jaures near the raid were barricaded shortly after the altercation and the local metro stop was shut down at approximately 10:20 a.m. due to "police intervention," the Groupe RATP, Paris' public transport operator, announced.
Armed military trucks cruised the neighborhood, which was also heavily peppered by police, and a help center for those living in the area was set up later in the morning.
"Me, personally, I didn't hear it because I sleep with earplugs," Adrien, a local resident who only wanted to be referred to by his first name, told Mic. "But my friends heard it — all my friends were messaging me. And then, like everybody, I turn on the television and was waiting for some news.
"From what I hear, it was related [to Friday night's attacks]. The police got a warrant for the head of the attacks. Those attackers are well organized."
Before receiving details on the raid or ensuring the violence was over, Adrien and his friends decided go to a local coffee shop for breakfast. One shop owner told Mic he too, refused to let the morning's events interfere with his day and that he was opening his shop as usually would.
"I don't feel unsafe," Adrien said. "You have more chance being hit by a car. You don't have to go in[to] a massive paranoia. The best resistance is still going to the bar and going to the match."
Correction: Nov. 18, 2015
Nov. 24, 2015, 10:15 a.m.: This story has been updated to reflect new information on the woman who died during the raid in which Abdelhamid Abaaoud was killed. French officials now believe the woman, Abaaoud's cousin Hasna Ait Boulahcen, did not detonate the bomb that reportedly killed her.