240,000 Texas Woman Have Tried to Self-Induce Abortion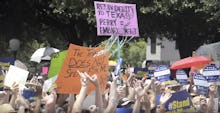 One in 3 American women will have an abortion in her lifetime, and 95% of those who have had abortions do not regret doing so. But these women are increasingly forced to do so at their own peril — a point new research horrifyingly underscores.
At least 100,000, and as many as 240,000, Texas women may have at some point in their lives attempted to self-induce an abortion without medical assistance, according to a new Texas Policy Evaluation Project study. 
Restrictions don't work. One major factor contributing to this reality is the rapid restriction to abortion access in the state, according to the study. When Gov. Rick Perry signed House Bill 2 into law in 2013, Texas saw the onset of some of the toughest regulations on abortion in the nation. Although the Supreme Court last Friday agreed to review the law, the number of abortion-providing health centers in the state has already dropped from 42 to 19, as clinics struggle to meet the bill's stringent and often costly requirements, according to NBC News. As of 2014, only 18 abortion clinics remained open in the country's second-most-populous state, and if HB2 is upheld, the 5.4 million Texan women of reproductive age will be left with only 10 abortion providers in their state, the New York Times reported.
The reports of increases in self-induced abortions are in line with previous data demonstrating that restricting access to abortions doesn't actually stop them. A recent Associated Press survey, for example, found that states with the least restrictions to abortion access saw the highest decline in abortion rates since 2010.
Women who want abortions will pursue them, Steph Herold, managing director of the abortion rights group Sea Change Program, told Mic in June. Many may "flock to states where there are more abortion clinics" and be burdened with spending "even more money to travel, to get off work, to get childcare and find a place to stay," she said.
Should more clinics close in the state, this self-induction rate will only increase, the new study's researchers concluded.
Who is affected: The study also found that a sizable number of women self-inducing abortion are Latinas living near the U.S.-Mexico border who have relatively easy access to misoprostol, an abortion-inducing drug available over the counter in Mexico. Jessica González-Rojas, executive director of the National Latina Institute for Reproductive Health, has previously confirmed in a statement that Latinas — who compose 40% of Texas women — are particularly harmed by abortion restrictions.
"Latinas are twice as likely to experience unintended pregnancies as non-Latina white women and are more likely to be of reproductive age," González-Rojas said in an emailed statement. "We already face too many barriers to getting the healthcare we need."
A legacy of restricted rights. Though horrifying, this study is perhaps unsurprising given the increasingly restricted climate of women's reproductive rights in the country at large. Lawmakers have passed a record-breaking 231 abortion restriction laws in the last four years, and more than 100 anti-abortion bills have been introduced in 28 state legislatures so far this year.
President of Planned Parenthood Cecile Richards summed up these findings well in an emailed statement obtained on Wednesday morning by Mic. 
"We are getting a sense of the very real impact these restrictions have on women, and it's deeply disturbing," she wrote. "Most people thought we were well past the days of women taking matters into their own hands, but laws that make it impossible to get safe and legal abortion are taking us backwards."
Especially in the context of the upcoming election, this study should remind all Americans in favor of women's rights just how important their vote will be.
"Roe v. Wade is on the ballot," Richards recently said in a Yahoo! News interview. "Make no mistake."
h/t RH Reality Check