Nigerian Suicide Bombing Leaves at Least 32 Dead — Here's What We Know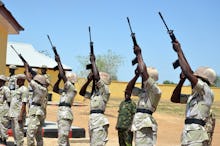 A deadly suicide bombing Tuesday at an open-air market in Yola, Nigeria, killed at least 32 people and injured dozens more, according to Nigeria's National Emergency Management Agency and the Red Cross. Blasts rang out just before 8 p.m. local time in the capital city of the state of Adamawa. A terrorist group did not immediately claim responsibility for the attack, but according to Reuters, the attack "bore the hallmarks of militant Islamist group Boko Haram."
"Casualties were evacuated to specialists hospital Jimeta, Federal Medical Center and Peace hospitals," Sani Datti, a senior information Officer for NEMA, wrote in a Facebook post. Several photos of the carnage at the scene accompanied the post, and more were uploaded to Twitter.
The Islamic militant group Boko Haram has been on a rampage in Nigeria, using killing sprees and terrorist scare tactics in an attempt to strong-arm Nigeria's northeast region to obey Sharia, or the law of Islam. In the last six years, the Islamic militant group has killed thousands in its quest, Reuters reported.
Deadly attacks in northeast Nigeria by Boko Haram caused the country's refugee count to spike to over 1.5 million by April, according to the International Displacement Monitoring Center.
"The increase in the first half of 2015 of the number of internally displaced people (IDPs) in Nigeria was due to ongoing violence in the north-east as well as the return of refugees who have not been able to settle back in their places of origin and are therefore considered as IDPs," according to the group. "The biggest rise in the number of IDPs was registered in Borno state, one of the three north-eastern states most affected by Boko Haram violence, followed by Adamawa and Yobe."
Following the attacks, Facebook took note. 
"After the Paris attacks last week, we made the decision to use Safety Check for more tragic events like this going forward," Zuckerberg wrote in a Facebook post. "We're now working quickly to develop criteria for the new policy and determine when and how this service can be most useful."
"Unfortunately, these kinds of events are all too common, so I won't post about all of them. A loss of human life anywhere is a tragedy, and we're committed to doing our part to help people in more of these situations."
Many criticized Facebook last week when, after France fell victim to deadly attacks by ISIS, the company rolled out a default French flag filter but offered no such option for users to show support for lives lost in attacks that erupted in Beirut one day prior.