Paris Police Dog Diesel Dies in Police Raid in Paris Suburb Saint-Denis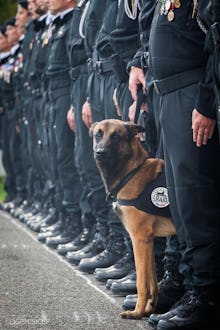 Diesel, a 7-year-old Belgian Shepherd police dog, was killed by terrorists in a counterterrorism police raid in Paris, French police announced Wednesday in a tweet. French police raided several apartments in the northern Parisian commune of Saint-Denis on Wednesday in an attempt to capture Abdelhamid Abaaoud, the alleged mastermind of the series of terrorist attacks in Paris on Friday that left at least 129 dead and hundreds injured.
Five officers sustained minor injuries during the raid, according to a tweet from French police. Diesel was killed during the operation. 
Two suspects of the Paris attacks were killed during the raid, the Independent reported, and eight arrests were made. 
Here's what Saint-Denis looked like during Wednesday's raid:
Since French President François Hollande declared a state of emergency following Friday's massacre, police are allowed to conduct raids throughout the country without a warrant. As of Monday, French Interior Minister Bernard Cazeneuve told the Guardian that French police had searched 168 addresses, arrested 23 people and placed 104 under house arrest. 
"It's just a start, these operations are going to continue," Cazeneuve told the Guardian. "The response of the republic will be huge and total. He who targets the republic will find the republic will catch him, will be implacable."
 Nov. 18, 2015, 3:30 p.m. Eastern: This story has been updated.
Get the news everyone's talking about delivered straight to your inbox every morning by signing up for MicCheck Daily.