Adele Performs New Song "Water Under a Bridge" at Radio City Music Hall Concert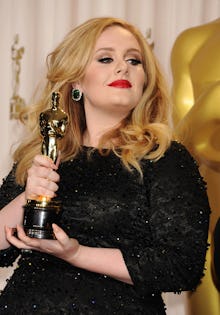 During Adele's one-night Radio City Music Hall concert Tuesday night, the British singer-songwriter graced a crowd of lucky winners at the famous venue with performances of her classics and never-before-heard music from her album 25, ahead of its Friday release. Naturally, attendees posted segments of the performance on social media, including a 30-second preview of "Water Under a Bridge," an upbeat gospel track off the album.
Another new music snippet was "A Million Years Ago," an ominous, operatic melody. Adele also performed "Hometown Glory" off her debut album 19, which she made a tribute to Paris in the wake of Friday's terrorist attacks.
One of the attendees tweeted that when Adele performed "When We Were Young," a single she dropped Monday to YouTube, she received a standing ovation and broke down in tears. Another tweet said fans were "legit in tears that whole show."
Here are some clips of Adele's performance, including the anticipated "Water Under a Bridge":
On Monday, Billboard named Adele's last album 21 as the greatest album of all time over Michael Jackson's Thriller, the soundtrack to the Sound of Music and Taylor Swift's Fearless — and the songs dropped and previewed indicate she is going to serve up another record-breaking album with the release of 25.