The World's Premier Virtual Pop Star Is Coming to America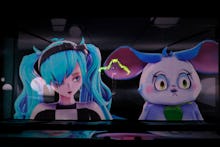 Hatsune Miku is a global pop sensation. The female-looking and female-sounding music star has millions of adoring fans, chart-topping albums and collaborations with some of the biggest names in pop, including Pharrell Williams and Lady Gaga. "She" has met David Letterman. "It's like being on Willie Nelson's tour bus," he said, describing his disorienting interaction with the teen sensation. 
You can't blame Letterman for likening his conversation to a drug-induced hallucination. Miku is not easy to wrap one's head around, mainly because she's not human. "She" is actually a "virtual persona who uses a computer-generated voice and 3-D graphics to perform onstage," Miku's website says. She's been 16 years old since 2007, when she was first created as a synthesizer software by Crypton Future Media. Her first live performance was initially intended as a one-off promotion for the software, but fans loved it so much they built her into a full performer with a complete personality profile (she's a Virgo apparently). 
Miku's creators feel it's time North America got to know her and announced Wednesday that Miku will be making her first headlining tour of North America next year.
America, meet your new pop idol:
How? What? Why? They're all good questions, and there aren't easy answers. 
Miku is one of several "Vocaloid" software synthesizers created and sold by Crypton Future Media. The company created her by sampling anime actress Saki Fujita reciting every English and Japanese syllable. If you get the software, you can arrange these syllables into any phrase. You can then program a melody, even something absurdly far outside any human vocal range, and Miku will sing it — perfectly.
That's one of the benefits that comes with being a virtual, rather than a flesh and blood pop star. She never has the opportunity to disappoint fans with drunk, erratic or criminal behavior. She never experiences "pitchy days" or "fatigue," writes Japan Today's Debbie Howard, who positions Miku as a sign of Japan's growing "idol culture" and growing preference for "artificial intimacy."
Miku has her own production team, which uses the software to produce much of the music she then performs as a hologram. Yet, the bulk of her music actually comes from her fans who can submit songs they write with the software. The theme song for her 2016 North American tour, "Blue Star," is one such example, solicited through a contest announced in August. 
The collaborative aspect of Miku's catalog and persona is one of her most important features, which her creators seek to highlight in explaining her to skeptical audiences.
"The American audience has started to understand that Miku is not only about music, but that it is the whole community and creative inspiration that she represents," Cosima Oka-Doerge, U.S./EU marketing manager at Crypton Future Media, told Shutterstock. "We really hope that Miku and our other characters will continue inspiring users, as well as fans, to share their ideas and creations, and help foster Miku further as a culture of their own."
The best way to figure out Miku culture is probably to see it with one's own eyes. Check her full list of North American tour dates here.