Muslim Man's Silent Demonstration Asks Passersby "Do You Trust Me? If Yes, Hug Me."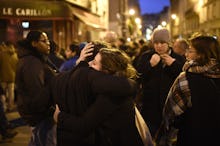 Onlookers at Paris's Place de la République were moved to tears by a silent display of unity following the deadly Paris attacks, when one Muslim man spoke out against Islamophobia without words. 
Blindfolded by a keffiyeh, the man stood in the square with outstretched arms. At his feet were a pair of handmade signs. Translated from French, they read:
"I am Muslim, and I'm told that I'm a terrorist." 
"I trust you, do you trust me? If yes, hug me."
Silently and one by one, crowd members stepped up to embrace the man. The powerful display was shared to Facebook on Monday. 
Afterward the unidentified man shared a few words with the people that had gathered.
"I would like to thank every one of you for giving me a hug," he said. "I did this to send a message to everyone. I am a Muslim, but that doesn't make me a terrorist. I never killed anybody."
"I want to tell you that 'Muslim' doesn't necessarily mean 'terrorist,'" he added. "A terrorist is a terrorist, someone willing to kill another human being over nothing. A Muslim would never do that. Our religion forbids it."
This video underlines a wider fear that Friday's attacks will aggravate anti-Muslim sentiment. In the wake of the attacks, Muslims around the world held vigil for the victims. Some carried signs that read, "Islam is not terrorism."
On Friday, Paris fell victim to a series of coordinated attacks at the hands of the Islamic State group, also known as ISIS. Brutal attacks at the Stade de France, concert venue the Bataclan and a handful of restaurants and bars in Paris' 10th arrondisement killed at least 129 people and wounded an estimated 350 more.
This video is a testament to Parisians' resolve to find normalcy, stability, harmony and peace in the wake of unspeakable tragedy. Go here for more information on how you can help.