Zayn Malik New Album: Latest Updates, Song and Release Date Info for Solo Record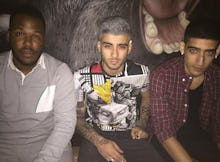 Zayn Malik, known for his former membership in U.K. boy band One Direction and for staring into the souls of fans via Instagram, is finally coming out with his own album. The 22-year-old told Fader in an interview published Tuesday he's preparing to release his first solo musical project, and it's been a long time coming.
"I don't feel like people really know what I'm going to give them, musically," Malik told Fader for its December/January issue. "And once they hear it, I feel like they will understand me a little bit more, and they'll understand why I did what I did, and why I left the band, and why I had to write all this shit down."
Upcoming release: Although Malik has yet to announce an official release date, he told Fader the album would be coming out in early 2016. It will be his latest musical release since his last album with One Direction, Four, in 2014.
Fader also released a video on YouTube of Malik cruising around his neighborhood on a motorbike, as well as peering into the camera during a sunset, sitting near a fire and smoking something that probably isn't tobacco.
Very little is still known about Malik's new album. Malik told Fader he's been recording his music in several unconventional ways, including renting a studio after a night of partying in a Las Vegas casino, which ultimately inspired one of his new songs.
Track list: Though there isn't an official track list from the forthcoming album, background music from a song titled "Befour" is featured in Fader. 
h/t: Fader