Justin Bieber and Halsey Perform "The Feeling" on the 'Today' Show — Listen Here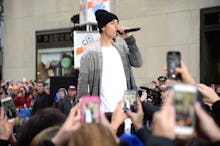 In a Today show performance of songs from his newly-released album Purpose, Justin Bieber and singer Halsey performed "The Feeling" together for the first time on Wednesday to a crowd of psyched fans, many of whom arrived by 5 a.m. Eastern to watch Bieber's five-song mini concert. 
The song, which questions the difference between being in love and being in love "with a feeling," was dropped with the release of Purpose on Friday. Singer-songwriter Halsey, whose real name is Ashley Nicolette Frangipane, is featured on the track and made a surprise appearance on Wednesday to perform the jam with Bieber. 
The two got intimate on stage during the performance as fans cheered: 
Watch the full Bieber and Halsey Today show performance below:
Bieber's 18-track fourth studio album includes hit singles "What Do You Mean" and "Sorry" and features artists Halsey, Big Sean, Travis Scott, Nas and Skrillex. Bieber will promote the long-awaited album on a world tour kicking off March 9 in Seattle. Here's a press release including tour dates and how to buy tickets.