College Students Absorb TV's Messages About Sexual Assault, But Media is Failing Them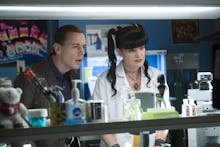 From organizing nationwide protests to launching organizations to creating artful installations, activists on college campuses across the country are fighting sexual assault in myriad innovative ways. While their efforts are crucial, they are often undeniably retroactive, addressing assault after it has occurred. But a new study offers crucial insight into one factor that may encourage behaviors that contribute to sexual assault among young people.
The study: A recent study of 313 college freshmen published in the Journal of Health Communication: International Perspectives examined how major crime drama franchises — specifically, Law & Order, CSI and NCIS — impact individuals' conception of rape myth acceptance and sexual consent. The study found that each franchise had a different effect. While Law & Order arguably benefited viewers by increasing "intentions to adhere to expressions of sexual consent and refuse unwanted sexual activity" and decreasing "rape myth acceptance," the researchers found, CSI and NCIS imparted opposite messages: These shows were associated with "decreased intentions to adhere to expressions of sexual consent" and "decreased intentions to refuse unwanted sexual activity," respectively.
This study bolsters previous research that has shown media crucially impacts viewers' attitudes towards assault. One study published in the Journal of Interpersonal Violence, for example, found that men who were exposed to sexual violence in feature-length films were more accepting of rape myths and sexual aggression and less sympathetic toward survivors. Another study published in the Journal of Research in Personality found similar results.
The scope of this new study may seem narrow, but in actuality these franchises reach an incredible number of viewers. The franchises that negatively impact viewers' attitudes towards assault are two of the most-watched shows in the world. NCIS was the world's most-watched television drama in 2014 — and had been the top pick in the United States for five straight seasons at that point, according to Variety. The show had more than 57.6 million viewers worldwide in 2013. CSI — which was named "the most popular television show in the world" at the 2012 Monte Carlo Television Festival — is also hugely influential: The National Institute of Justice was even compelled to debunk what had become known as the "CSI effect," or that "watching the show influenced jurors to wrongfully acquit guilty defendants when no scientific evidence had been presented."
Addressing a deeper issue: While there are undoubtedly many factors that contribute to the perpetuation of campus sexual assault, the fact remains that the phenomenon is widespread and hardly abating. An estimated 15.3% of first-year women reported an attempted or completed rape during their first year on campus, according to a recent study published in the Journal of Adolescent Health — a number that rises to 18.6% when researchers accounted for women who reported more than one event.
In addition to efforts like better sex education and legislation, this study offers a crucial glimpse into how activists and educators can address this problem and make strides towards a more comprehensive solution.