This Muslim Woman in a Hijab Just Schooled Fox News on What a Patriot Looks Like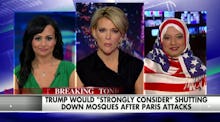 Megyn Kelly conducted an interview Tuesday night on Fox News regarding Donald Trump's comment that he would "strongly consider" shutting down mosques in response to the Paris attacks.
To weigh in, Kelly called in Katrina Pierson, a spokesperson for the Trump campaign, as well as Saba Ahmed, president and founder of the Republican Muslim Coalition. Pierson started listing terrorists that happen to be Muslim, to which Kelly looked to Ahmed and said, "Even experts such as Andrew McCarthy have said that the mosques tend to be hotbeds for political activity, not as much religious activity." 
As calmly as humanly possible, Ahmed replied, "Megyn, we go to the mosque to pray." She then went into detail about how horrifying it is that "our constitutional rights of free exercise of religion are going to be challenged."
But really, she didn't have to say much at all with her hijab doing the talking for her.
As Ahmed insisted on her own American constitutional rights, viewers noticed Ahmed's bold hijab fashioned from an American flag scarf. It was a definitive statement that she, like most people watching, is an American and is proud to celebrate it. 
"The reason I did it is that I wanted to portray that there are patriotic American Muslims and we just want to live in peace," Ahmed told Mic. "Obviously what ISIS is doing does not represent our faith. They're perverting our religion, and they don't represent us in any way. We're doing what we can and we would appreciate if Americans would just accept us and live in peace." 
Ahmed told Mic she bought the scarf in Times Square on a recent trip to New York City. "They have a lot of 'I love New York' stuff, so I decided to get an American flag scarf," she said.
Later in the interview, Kelly asks why it's "only the mosques" that have the extremist leaders. Ahmed said a few people cannot be representatives for her entire faith, just as not all bombings by Christians are linked to churches. "Just because there was a few people that may had been associated with terrorism that came to that church, that does not give you the permission to shut down the mosque," she said. 
Ahmed told Mic she was "basically trying to defend our mosques."
"Under the U.S. constitution, we have freedom of religion," she said. "Mosques are just like churches and other houses of worship. We don't think the government should shut down any of the prayer services. There may be people that are talking politics, but that doesn't mean we shouldn't be able to pray." 
According to Ahmed, this is the second time she's appeared on Kelly's show, and she's thrilled to do so. "Muslim people want to be a part of this conversation," Ahmed said. "When you watch the show from last night, the first person she had on was berating Islam and citing things out of context. If you have non-Muslims on there, they're going to pick and choose what they want to read and say." 
This isn't the first instance of Ahmed being critiqued by her own party. In an opinion piece she wrote for the Guardian, Ahmed details her many experiences with the party's unease with her religion. For instance, at a 2014 panel event on Benghazi, Ahmed questioned how the party deals with the vast majority of Muslims who are peaceful. Her question was met with the response, "Are you American?" 
They should just take a look at her hijab.
h/t Jezebel
Get the news everyone's talking about delivered straight to your inbox every morning by signing up for MicCheck Daily.