'Zoolander 2' Trailer Is Here — Watch Ben Stiller Return to the Runway, Justin Bieber Die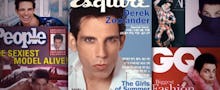 The Zoolander 2 trailer is here, replete with the world's most beloved, least capable male models Derek Zoolander and Hansel, plus Justin Bieber, Kristen Wiig and of course, Blue Steel, a look that truly deserves its own billing. 
The sequel, in theaters Feb. 12, is a follow-up to 2001's Zoolander, which follows the waning career of Zoolander (Ben Stiller), a male supermodel with a below-average IQ, questionable modeling savvy and a tragic inability to turn left. 
In the new trailer released Wednesday, Zoolander and Hansel (Owen Wilson) have been cast out of the industry by a new generation (including the gender-neutral All, played by Benedict Cumberbatch). Left jobless and without a solid identity, Zoolander and Hansel are recruited to investigate the murders of the "world's most beautiful people," including the Biebs, all of whom died flashing Zoolanders' signature looks. Among them:
Le Tigre
Magnum 
and, of course Blue Steel
Penelope Cruz stars as an Interpol agent who recruits the models for the job, and Wiig appears as a fashion designer and a plaster-faced example of Botox gone wrong. 
Watch the full trailer below: