Bataclan Terror Attack: Cellphone Found Outside Paris Venue With "Let's Go" Text Message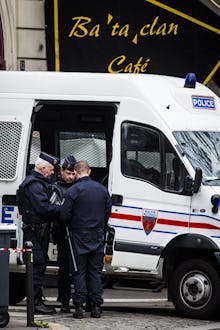 An abandoned cellphone was found in a trash can outside the Bataclan in Paris with a text message containing a map of the venue and a message that reads, "On est parti on commence," or "Let's go," according to multiple French sources. Reuters confirmed Wednesday the cellphone was found in a nearby trash can outside of the Bataclan, however it was unclear at first whether it belonged to one of the terrorists involved in the attack. 
Over 100 people attending an Eagles of Death Metal concert were held hostage and at least 89 were killed at the Bataclan in Friday night's series of attacks on Paris. 
Authorities also found two reportedly fake passports near bodies of the suicide bombers who stormed the Bataclan. One of the passports was from Syria and registered in Greece on Oct. 3 in a wave of refugee migration to the region. 
Raids continue: French police have been conducting raids throughout the multicultural Parisian suburb of Saint-Denis, where seven suspects in relation to Friday's attacks were arrested and two others killed when a female suicide bomber detonated an explosive in an apartment Wednesday morning. 
The cellphone discovery was originally reported by French news site Mediapart, which initially withheld their report while working with authorities in the midst of the ongoing investigation and police raids. 
Rumors have been circulating about how the Islamic State group, otherwise known as ISIS or Daesh, communicates with its members after the group took responsibility for the attacks on Paris. Originally it was thought the terror group used a Playstation 4 to plan out the attacks that left 129 dead and hundreds others injured across Paris, but that turned out to be a hoax. 
The cellphone could provide another link in helping authorities piece together how the attacks were coordinated, and possibly whether another could happen in the United States.