Eagles of Death Metal, the Band Onstage During Bataclan Attack, Releases Statement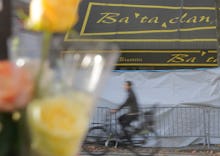 Days after the bloody terror attacks that erupted at Parisian concert hall Bataclan, Eagles of Death Metal, the California-based rock band that survived the massacre despite having been onstage when the assault began, released a statement about the night. 
"While the band is now home safe, we are horrified and still trying to come to terms with what happened in France," the band said in a statement posted to Facebook. "Our thoughts and hearts are first and foremost with our brother [merchandise manager] Nick Alexander; our record company comrades Thomas Ayad, Marie Mosser and Manu Perez; and all the friends and fans whose lives were taken in Paris, as well as their friends, families and loved ones." All of the band members, including the touring musicians who accompanied them onstage, survived the attacks. 
"Although bonded in grief with the victims, the fans, the families, the citizens of Paris and all those affected by terrorism, we are proud to stand together, with our new family, now united by a common goal of love and compassion," reads the Facebook post. "We would like to thank the French police, the FBI, the U.S. and French State Departments and especially all those at ground zero with us who helped each other as best they could during this unimaginable ordeal, proving once again that love overshadows evil."
Eagles of Death Metal was midway through their headlining set when gunmen stormed the 1,500-person capacity venue. A hostage situation unfolded, ending in the slaughter of more than 100 concert goers, the Associated Press reports.
Eagles of Death Metal is a two-man band from Palm Desert, California, started in 1998 by guitarist and vocalist Jesse Hughes and percussionist Josh Homme, famous for founding Queens of the Stone Age. Despite their name, the band's sound is closer to garage rock than it is death metal. 
According to the statement, Eagles of Death Metal's future concerts are on hold "until further notice."
Commenting on the post, one Facebook user said he and his wife were among the audience members who escaped the attack.
"They tried to kill me and my wife while dancing in front of our favorite band, thankfully they failed," the commenter wrote. "We saw what no one should have to see. Our thoughts are with everyone who lost their lives and their relatives. The healing can now begin, and it starts with listening to EODM again. Peace, love and death metal."
The band concluded their statement with a similar mantra, through they wrote theirs in French.
"Vive la musique, vive la liberté, vive la France and vive EODM."
Translated, the phrase means: "Long live music, long live freedom, long live France and long live EODM."
Correction: Nov. 18, 2015
An earlier version of this article stated Eagles of Death Metal formed in 1999. The band formed in 1998.