How the Obama Administration Got 50% of Homeless Veterans Off the Streets in 4 Years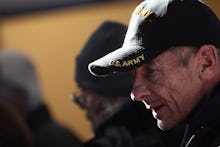 In 2010, the Obama administration unveiled Opening Doors, the federal government's first strategic plan to put an end to homelessness nationwide. That vision is slowly reducing the homeless population of the country, which stands at over 500,000 people on any given night.   
At first glance, the immense progress that has been made isn't immediately apparent. The Department of Housing and Urban Development released its annual homeless assessment report on Thursday, showing a tiny decrease in homelessness between 2014 and 2015. Overall homelessness fell just 2%, and chronic homelessness decreased by a mere 1%.
But if you take a step back, a more promising picture emerges. Between 2007 and January of 2015, overall homelessness fell by 11%, and chronic homelessness declined by 31%.
The most striking long-term plunge, though, has occurred among one specific segment of the homeless population: veterans. Homelessness among veterans declined by 35%, and over a shorter span of time — between 2009 and 2015. The number of unsheltered homeless veterans across the nation has plummeted by 50% in the past four years.
This progress is the result of unprecedented attention from policymakers. Bipartisan support for smart policy in Congress and extraordinary coordination between the federal government and state and local governments has produced some shocking news in the past year. Earlier in November, Virginia became the first state in the nation to functionally end veteran homelessness altogether.
One of the key policymakers shaping the federal government's role in this effort is Secretary of Housing and Urban Development Julian Castro. Formerly the mayor of San Antonio, Castro was tapped by President Barack Obama to become HUD secretary in 2014. Widely considered a rising star in Democratic politics, Castro is often mentioned as a potential running mate for Hillary Clinton.
Mic spoke with Castro about how, in an era of flat wages and rising rent, the country has been able to ensure promising progress for a population that often suffers from the toughest chronic problems. 
Mic: What are the core factors that explain the huge drop in veteran homelessness?
Julian Castro: The biggest factor has been a collaborative effort among the federal government, state governments, local governments and nonprofits to focus on smart policy solutions and invest the resources that are necessary to house homeless veterans.
This is an example of how Washington should work. Congress actually appropriated HUD-VASH vouchers [rental assistance] in significant numbers so that we could deliver those to local communities. Those local communities have adopted smart policies like housing-first and rapid re-housing that have driven down the number of homeless veterans.
A lesson here is that when everyone is working on the same page — and Congress is appropriating resources that are necessary — we can make a big differences in the lives of people who are homeless.
"The fascinating thing about housing-first is that it flipped the usual dynamic of public policy."
Mic: Can you explain a little more about how housing-first works?
JC: The idea behind housing-first is to get a homeless person into permanent housing — not transitional housing or shelter, but permanent housing immediately. That's based on the notion that housing has a very stabilizing influence on a person. So, if someone is homeless and they're out of a job, they may have an addiction, or they may have a mental health challenge. Having their own apartment allows them to address the other issues much more successfully.
The fascinating thing about housing-first is that it flipped the usual dynamic of public policy. The usual dynamic of public policy is that we expect responsibility from someone, and then we give them an opportunity. Here we give them the opportunity of permanent housing right away, and that allows them to help take the responsibility necessary to improve their lives — to address their employment situation, to address a mental health challenge or addiction that they have. We ought to learn that lesson as we look at other kinds of policies in the United States.
HUD-VASH vouchers are given to veterans who are homeless and they're put into permanent supportive housing. That's long-term, and includes supportive access to supportive services that they need, whether it's related to employment or health care or mental health or things like that.
Mic: How do you respond to someone who says permanent housing will only encourage laziness?
JC: The evidence is compelling that the reverse is true — that providing housing immediately allows them to take the responsibility of looking or employment and addressing other personal issues that can get them on the right path.
It's tempting to make that argument, but the fact is that investing in folks who are homeless and having some confidence in them has paid off.  
Mic: Turning to the difficulties of being homeless for anyone in this country, earlier this year the Department of Justice filed a statement of interest in a case in Boise, Idaho, saying that preventing the homeless from sleeping outside should be considered unconstitutional and cruel and unusual punishment. But states across the country are passing tons of laws that make it harder for homeless people to survive outside. What's your stance on that and what can be done about it?
JC: I was pleased to see the Justice Department make the statement that it made. I understand why communities react the way that they do sometimes. They hear from city councils, from their constituents who are frustrated by seeing homeless individuals on the street.
But I would caution communities against essentially criminalizing homelessness. Number one, that's not a long-term viable policy solution to improve a situation. Secondly, communities like Salt Lake City, Houston and Las Vegas that just effectively ended veteran homelessness have shown that if you adopt smart policies and make the right investments, then you can address this issue in a long-term, viable way. 
I was out in L.A. about a month ago, and I had an opportunity to address a joint session of city and county leaders, and I cautioned Los Angeles policymakers against criminalizing homelessness. What we need to do in local communities and at the federal level is to dedicate the resources and adopt the smart policies that have shown that they work — not give in to the temptation to criminalize people because they have nowhere else to go.
Mic: How much is the problem of skyrocketing rents across urban areas in the country to blame for surges in homelessness in places like Seattle, where they've declared a state of emergency?
JC: Rent does play a role, no doubt. A few months ago, the National Low-Income Housing Coalition came out with an analysis that said that somebody who's working full-time on minimum wage could not afford the rent on a one or two-bedroom apartment in a city of any significant size in the U.S.
There are issues regarding higher and higher rent. There's also a bigger structural issue in terms of people being able to earn enough in our country. That's why I believe we ought to raise the minimum wage, and the president has called for that. We also find that there are times when people lose their job and become homeless, or go through a divorce and become homeless, or have a mental illness and become homeless. It's not only economic. There are other reasons as well.
Mic: A lot of progress has been made for homeless veterans, whether in Virginia or Houston. Why is there such an enormous focus on veterans from the federal government — what about non-veteran homeless people? 
JC: This is an inclusive plan. Opening Doors, which is the blueprint, the plan that the president launched in 2010, is a broad plan to end homelessness in the U.S. That includes veterans, but also families and youth and other individuals. We're absolutely focused on people who are veterans and non-veterans, and the good news is that we've learned a lot as we've seen the number of homeless veterans plummet. We're applying those lessons to what we do to address chronic homelessness and family and youth homelessness as well.  
Mic: Could homelessness be eliminated in the foreseeable future?
JC: I think so. There's a tremendous amount of work still left to be done, but we have seen since 2010 that 36% decline in veteran homelessness, we've seen an 11% decline overall. We've seen impressive reductions in homelessness. That's not to say that in every community that homeless has gone down — there certainly are some cities where whether it's with youth or with chronic homelessness or family homelessness where we see that we need to do some work, but the strong trend has been downward since 2010. 
That gives me a lot of hope that eventually we can effectively end homelessness overall in the United States, if we're willing to adopt smart policy and make the right investment of resources.