Aerion Says the First Supersonic Business Jet, the AS2, Will Be in Service by 2023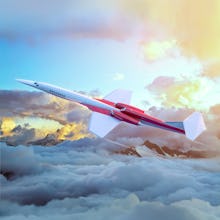 Aeronautical engineering company Aerion Corporation announced a timeline on Monday projecting it will produce the world's first supersonic business jet — a jet that can travel faster than the speed of sound — by 2023, Bloomberg reports. And, according to a Tuesday press release, private aviation company Flexjet has already put in its order for 20.
Aerion teamed up with European aerospace and defense corporation Airbus Group SE to build the first supersonic business jet AS2 aircraft, and said it has plans for a carbon-fiber wing structure, fuselage, landing gear and a fuel system. "We see clear and achievable technical solutions to the design of a supersonic jet and a realistic road map for helping Aerion proceed toward construction and flight," an Airbus senior vice president said in a statement, according to Bloomberg. 
In the Flexjet/Aerion release, Flexjet chairman Kenn Ricci said, "We have examined Aerion's technology and the AS2's remarkable performance capabilities and see them as potential game-changers for business travel."
The last active and second-ever commercial supersonic jet was the famous Anglo-French Concorde, which retired in 2003 after launching in 1976. The faster-than-speed-of-sound aircraft traveled from London to Singapore in seven hours, the Atlantic reports, compared the the average aircraft's 17-hour flight duration. While there's no concrete reason why the line of sleek aircrafts were discontinuted, the fleet retired three years after a major crash of the oldest Concorde in 2000, which uncovered design flaws. The steep decline in passengers air travelers after 9/11 also likely contributed to the Concorde's demise, the Atlantic reports. 
Though military jets have flown at supersonic speed for decades, the upkeep is expensive for commercial aircrafts — British and French taxpayers coughed up over $1.5 billion even before the Concorde operated, according to the Atlantic. That's why Aerion is marketing the AS2 for a smaller demographic of wealthy business people, Bloomberg reports. 
Correction: Nov. 18, 2015