7 Gender-Neutral Toys You Can Buy This Black Friday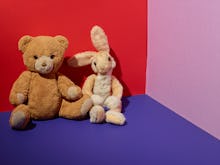 After the turkey is digested and the tryptophan has metabolized, the Black Friday lines will start. This year, shoppers in the toy section at Target will see a big difference in the display: a lack of gender-based signage. With gender no longer a marker to tell holiday buyers which toys are appropriate for which children, it might get a little confusing. But, fear not, there are a lot of toys that aren't the sole province of boys or girls, which shoppers can consider for their loved ones of any gender:
Video Games
Though women in the gaming community face myriad problems, that doesn't mean girls don't want to game. In fact, data from Pew Research Center shows that 42% of women own a gaming console. Hey, guess what? That number trumps the percentage of men with gaming consoles — only 37% of them do. So, no matter their gender, your child can experience the joys of Nintendinitis.  
Guitars and Other Musical Instruments 
Men with guitars may be sexy, but women rank among some of the greatest guitarists of all time (hello, Joan Jett). And learning how to play musical instruments has a slew of benefits beyond a potential future as a rock star. For your part, though, you may want to invest in a pair of these. 
Dolls 
There's nothing "girly" about dolls. In fact, science wants you to know something: Your boy really wants to play with them. In fact, thanks to social media, boys who love dolls are getting more attention than ever. YouTuber Chad Alan produces a series of videos for boys who like dolls. 
Dinosaurs 
Dinosaurs existed before humans — and gender roles — so there's no need reason to think they're are just for boys. Everyone loves dinosaurs! Consider the little girl who loved dinosaurs so much, her mom started making dino dresses. And, if you need proof that grown women, too, love dinosaurs, look no further than the best character in Jurassic Park, Laura Dern's Dr. Ellie Sattler. 
Monster Trucks 
If you think monster trucks are only for boys, you may have to take that up with Nicole Johnson or Madusa — two fan favorite monster truck drivers who are also women. Check out Johnson's list of accomplishments and you'll see that gender has no correlation to talent in the monster truck world. 
While Johnson has spoken out about sexism among monster truck fans, she also has plenty of advice for young girls who want to drive a truck one day. "Work hard," she told Monster Jam. "Stay in school. I went to college. That's the very first thing you need to think about. Go to school and then you can do any career you want." Now that's a good role model. 
Barbie 
Barbie — full name Barbara Millicent Roberts — may not be the big brand she once was, but she's still a toy that kids of all genders are dying to unwrap during the holidays. Recently, Barbie caught everyone off guard and released a commercial featuring a mix of boys and girls playing with Barbie. There you go, straight from the Barbie's mouth: This is something for all children to enjoy. 
Bow and Arrow
Whether you're Katniss or the Arrow, a bow and arrow seems like a pretty handy tool. Of course, we're not looking to impale bad guys or save District 12, so a toy version will do. Don't let the boy in the ad fool you; ever since the premiere of the Hunger Games films, archery lessons among young girls has skyrocketed. And who knows? Maybe you've got a future Olympian on your hands. 
Some people think Black Friday is absurd. Many even deliberately avoid it. No matter your stance on the actual day, remember that you can find a toy for your child no matter what their gender.