Tumblr Now Has a GIF Maker for Its iOS Mobile App — Here's How It Works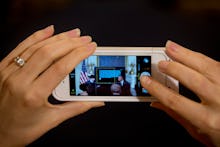 The art of the GIF is becoming simpler and faster to create than ever before, giving young people everywhere only slightly more hope their parents will eventually understand what the acronym actually stands for. Tumblr rolled out a feature on its iOS mobile app Tuesday that allows users to seamlessly create GIFs out of pictures and videos from their phones' camera rolls.
"Tumblr is the home of the GIF and we've been working on GIFs for a really long time, with GIF curation, GIF search and our Tumblr TV initiative," Tumblr engineering lead Kevin Grant told TechCrunch. "And something we've really been excited about for a long time is to actually create them."
How it works: Making a GIF on Tumblr's new mobile app, which launched instant messaging in its app last week, is quite easy. The GIF maker can be found by opening the iOS app and tapping "compose," which will bring users to a series of options to choose from for their next post. A new option will appear, separating content that can be turned into GIFs from media stored on a phone.
With permission, the app accesses a user's pictures, videos and photo bursts via the iPhone's camera roll, allowing users to manipulate their content any way they want. After playing with the speed, looping and time frame of the video, series of pictures or photo burst, the GIF can be saved and posted to the site, where it will automatically be tagged with "GIF" and "Made With Tumblr."
Check out some GIFs already created by Tumblr users below: