Abdelhamid Abaaoud, Suspected Mastermind of ISIS Paris Attacks, Confirmed Dead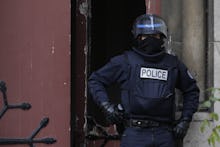 Abdelhamid Abaaoud, the Belgian man French authorities believe plotted the Nov. 13 terrorist spree of bombings and mass shootings in Paris which killed at least 129 people, is dead.
Senior intelligence officials confirmed Abaaoud's death to the Washington Post on Wednesday. 
The Washington Post reports that Abaaoud, 27, was one of three killed during a dramatic French raid in the Parisian suburb of Saint-Denis on Wednesday, during which eight other people were arrested. Law enforcement engaged in a shootout with with a heavily armed cadre of suspects linked to the attacks at 4:20 a.m. local time. A woman and another man died also died in an apparent suicide bombing during the raid. The events also saw the death of a police dog and the wounding of five police officers.
According to CNN, forensic experts ran DNA tests on recovered bodies to determine whether Abaaoud was slain in the raid.
On Nov. 17, the New York Times reported Abaaoud was despised by his own family, who wished him dead after he joined the extremist group. He was said to have successfully recruited his 13-year-old brother Yones to leave Belgium to join ISIS in Syria. 
"We are praying that Abdelhamid really is dead," his sister Yasmina said last fall, when he was believed to have died fighting for the Islamic State group, according to the New York Times.
Nov. 18, 2015, 3:15 p.m.: This story has been updated to reflect more recent reports on the number of people arrested in the Nov. 18 raid.
Nov. 24, 2015, 10:15 a.m.: This story has been updated to reflect new information on the woman who died during the raid in which Abdelhamid Abaaoud was killed. French officials now believe the woman, Abaaoud's cousin Hasna Ait Boulahcen, did not detonate the bomb that reportedly killed her.