Cyber Monday 2015 Tech Deals: Here Are the Best Prices on Laptops, Wearables and TVs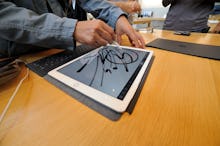 Cyber Monday is for shoppers who opt to enjoy their post-turkey coma and skip the Black Friday chaos knowing a new collection of deals on the websites of most Black Friday retailers awaits them the following Monday — an opportunity that doesn't require leaving bed to take advantage of. Here are some of the best tech deals we've seen for 2015.
Wal-Mart, Dell, Target and Best Buy just revealed Cyber Monday deals that include an assortment of tech deals on HDTVs, tablets, wearables and laptops. 
Here are some noteworthy deals for techies on Cyber Monday:
Wal-Mart: Wal-Mart released its nine-page Cyber Monday ad and some of the best tech deals include a $597.99 Samsung 48-inch 4K Ultra HDTV, a $599 Microsoft Surface Pro 3 tablet (regularly $799 and $99 Beats by Dre Drenched Solo headphones (regularly $119).
Dell: The computer tech company starts rolling out its deals at 8 a.m. Eastern on Monday including a multitude of discounts on laptops and desktop computers for an average of 50% off and Xbox One bundle with video games Gears of War and Halo 5 for $300 (regularly $435), CNET reported.
Target: Target announced that every product on the site will be 15% off on Cyber Monday with the promo code "CYBER15," according to a press release. Some of Targets' most noteworthy tech products are the PlayStation 4, Xbox One, tablets, headphones and wearable technology. Review Target's electronics inventory here. 
Best Buy: The electronics giant's Cyber Monday deals are all tech products. Some noteworthy deals, BGR reports, include a Samsung 65-inch Curved 4K Ultra 3D Smart LED HDTV for $2,999.98 (regularly $3,799.98), an LG 55-inch 4K LED Smart Ultra HDTV for $699.99 (regularly $1,200) and an 11.6-inch Lenovo touch-screen laptop for $549.99 (originally $599.99).