Black Friday 2015 PS4: Deals, Best Prices, Doorbusters and Where to Buy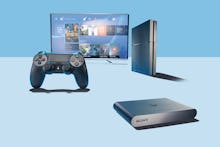 As Black Friday draws ever nearer, some conscious shoppers are scouting out the best prices on certain products to stay a step ahead of the pack. Before busting down retailers' doors on Friday (or, in some cases, Thursday), some shoppers are keeping a close watch on price points for a particularly hot-ticket item: Sony's PlayStation 4. 
"Thanksgiving is a time for family, a lot of turkey, a ton of football, hours of gaming and amazing Black Friday offers," wrote John Koller, PlayStation's brand marketing vice president, in a company blog post on Monday. "Thanksgiving is only days away, and we know that many of you are thinking of buying a PS4 for yourself or someone special this holiday season. If you were watching football yesterday, you probably saw our commercial featuring the games that demonstrate how PlayStation is the best place to play this holiday. It also featured the Uncharted: The Nathan Drake Collection PS4 bundle."
Here's where to find the best deals, prices and doorbusters on the PS4. 
The deals: This year, a few retailers are offering the PS4 bundle at $299, which is $50 off Sony's going rate of $349.99 for the 500GB console. Shoppers looking to grab the game center at a discount should head to Best Buy, GameStop, Toys "R" Us or Wal-Mart. 
Costco will also sell the PS4 at a $50 reduction on Black Friday, though the wholesale store isn't offering consumers a bundled option. Per Koller's blog post, the retail locations that offer the bundled option for game shoppers will extend the discount through Cyber Monday. 
And for those shoppers looking to avoid massive crowds during one of the biggest shopping days of the year, Overstock will be offering a number of discounts based on which game consumers choose to bundle with the console.
Game on.