Here's How to Find the Best Cyber Monday Deals on the Internet's Biggest Shopping Day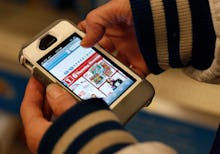 For anyone wishing to celebrate the start of the holiday shopping season without having to leave home, Cyber Monday is hitting stores online worldwide Monday, offering major deals and discounts on a variety of products. 
Among the sites and national chains offering reduced price tags are Wal-Mart, Target, Best Buy and Amazon. From an array of clearance options to items on rollback and special discounts, 2015 could be the most successful Cyber Monday in history.
Where to shop: Amazon is offering a slew of deals on both Black Friday and Cyber Monday, including exclusive "Lightning Deals" to its app users, and giving Prime customers a 30-minute head start on the biggest discounts before they become available to the masses.
Wal-Mart is also offering massive deals in an event the company is calling "Cyber Week." The site will offer discounts on popular holiday gifts, electronics and other commodities, according to the company. Little is known about what exclusive offers exactly will be unveiled Monday via Wal-Mart. Here's how to find their online specials. 
Overstock.com is offering Black Friday and Cyber Monday deals, as well as offering a 10% discount to any users who sign up on the site. Similar to Amazon, Overstock is providing the latest deals throughout Monday via its mobile app as well. Deals include up to 45% on dining room furniture and up to 70% off jewelry and watches, according to the website.
Target says its offering hundreds of items for reduced prices on Cyber Monday, and is extending its holiday shopping treat to customers in the form of new weekly deals every Monday. There are already deals on display for just about everything: from toilet paper to video games and Nerf guns. 
Check out CyberMonday.com to find out more details on deals and savings from dozens of other online stores.