'The Hunger Games: Mockingjay, Part 2': Latest News, Trailer, Reviews and More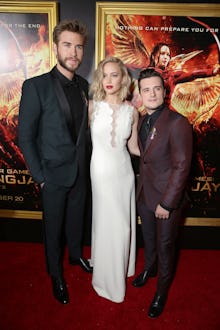 The fourth and final film installment of The Hunger Games, based on Suzanne Collins' massively popular dystopian trilogy, will hit theaters Friday. The Hunger Games: Mockingjay, Part 2 marks the end to an epic that boasts a huge and pious fanbase. 
The fantasy series chronicles a post-apocalyptic society that each year pits its youngest citizens against one another in a battle to the death, as a symbolic reminder of the capital district's all-encompassing power. The Hunger Games: Mockingjay, Part 2 is the second film in a two-part finale, and rounds out the collection of 2014's The Hunger Games: Mockingjay, Part 1, 2013's The Hunger Games: Catching Fire and 2012's The Hunger Games. 
The film stars Jennifer Lawrence as Katniss Everdeen, Josh Hutcherson as Peeta Mellark and Liam Hemsworth as Gale Hawthorne. The all-star cast also includes Woody Harrelson, Donald Sutherland, Julianne Moore and the late Philip Seymour Hoffman, who filmed most of his key scenes before his death in 2014. 
On Wednesday, the film was screened at Lincoln Center in New York City.
Despite its die-hard following, critics were lukewarm on the film series' final installation. Despite a 72% positive rating on Rotten Tomatoes and a three of four star rating from Rolling Stone, the film only earned a 66 of a possible 100 rating via Metacritic, and received more than one tepid write-up.
Still, Lawrence was widely praised for her performance.
"Even when the Hunger Games series gets winded pimping old tricks, Lawrence is the oxygen that brings it back to life," Peter Travers wrote for Rolling Stone. 
The Verge's Tasha Robinson echoed a similar sentiment. "As wobbly as Mockingjay, Part 2 is, it's powerful because its characters and conflicts have become so familiar in the culture, and because it completes a long and painful journey," Robinson wrote. "Katniss Everdeen has traveled from childhood to adulthood, and from political awakening to political release. The last thing her story needs is to be reopened and re-examined."
As a bonus, take a listen to "The Hanging Tree," which was written for The Hunger Games: Mockingjay Part 1, and features vocals by Lawrence:
Source: Soundcloud
Tickets are available on Fandago.