Miley Cyrus and the Flaming Lips 2015 Tour: Dates, Ticket Info and Naked Concert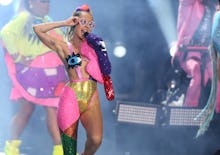 Miley Cyrus and the Flaming Lips are hitting the road together to promote Cyrus' latest album release (cue the giant penises and possible milk-spewing). The limited-run club tour, which Cyrus first announced in October, will hit eight cities — including Chicago, New York and Los Angeles — and kicks off Thursday. Here's the latest on Cyrus and the Flaming Lips' tour featuring music from her recently released Miley Cyrus and Her Dead Petz LP, including tour dates, ticket info and what to expect (including a possible show where Cyrus and the band are totally in the buff). 
"While an odd pairing for fans of the two vastly different musical ventures, it's no surprise that Cyrus would want to hit the road with her buddy Wayne Coyne," the Flaming Lips' lead singer and guitarist, Angela Bunt of TBA, a blog run by ticket search engine SeatGeek, wrote. "Not only have the two formed a strong friendship, but Coyne has also just co-created Miley's surprise new album."
Miley Cyrus and Her Dead Petz tour dates: The original schedule included just six cities and shows. Cyrus later added a show in Vancouver, British Columbia, and another in Los Angeles, according to Exclaim!.
Thursday — Chicago at Riviera Theatre
Saturday — Detroit at The Fillmore
Nov. 27 — Washington, D.C., at Echostage
Nov. 28 — New York at Terminal 5
Dec. 5 — Philadelphia at Electric Factory
Dec. 6 — Boston at the House of Blues
Dec. 14 — Vancouver, British Columbia, at Queen Elizabeth Theatre 
Dec. 19 — Los Angeles at The Wiltern 
Ticket info: Tickets went on sale Oct. 7. Fans can check Live Nation for availability. 
Cyrus' naked concert: The tour is expected to have one very raw show in which Cyrus, the Flaming Lips band members and the audience will be totally nude, according to Coyne. It was unclear which show would get the nude treatment. 
"Oh fuck! [Cyrus] is planning a show where her, the band (us) and the audience are all completely naked with milk (well white stuff that looks like milk) is being being [sic] spewed everywhere," Coyne said in an Instagram post in October. "It's a video (in the works) for #mileycyrusandherdeadpetz song 'The Milky Milky Milk...'"
Coyne has since been promoting the upcoming tour via social media, including the naked component. 
Cyrus has pushed the tour on Instagram, too, including posting a photo of what appeared to be giant penises — a theme Cyrus has used before. 
Cyrus released Dead Petz in August. The album includes 23 tracks and is a collaboration with Flaming Lips frontman Coyne. 
Nov. 18, 2015, 6:38 p.m.: This article has been updated to clarify TBA is a blog run by ticket search engine SeatGeek.