9 Times a Woman Stole the Show on a Male Artist's Track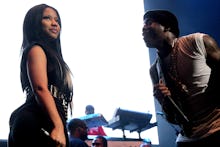 When musing over the state of pop and hip-hop, it's easy to convince oneself it's an equal-opportunity industry. Some of the biggest headline-grabbing stars are women: Miley Cyrus, Rihanna, Katy Perry, Missy Elliott, Adele. However, take a deeper dive and one will see that female artists are underrepresented in all aspects of the music industry. 
Women's artistry does not get treated with the respect it deserves. In production, only slightly more than 10% of engineers identify as female, according 2014 report from the Department of Labor. There are far fewer women in the executive level, and they tend to receive far less pay than their male counterparts. On the charts too, female artists struggle to make the impact to match that which their household names suggest. Female artists from Adele to Nicki Minaj to Alicia Keys have enumerated the intimidation, objectification and disrespect they feel on a regular basis.
Even in collaboration, so often female contributions are reduced to the lowest, cookie-cutter denominator. They play the doting admirer or the dance floor vixen. They sing the hook, and they're gone. However, female artists are capable of so much more; given the creative space they need, they can change the game.
Here are nine examples of when female contributors cut through the noise and absolutely dominated the male artists they were brought in to support.
1. "Dance (A$$) (Remix)" — Big Sean feat. Nicki Minaj
Nicki Minaj is the queen of stealing the show on male artists' tracks. Her first mainstream look came when she owned Jay Z and Kanye West with her frenetic verse on the latter's "Monster." Ever since, there have been many examples. Her presence on Big Sean's "Dance (A$$)" remix stands out in particular. Without her, the song would have been a misogynistic train wreck of weak butt puns and smilies spit for the male gaze. Her verse, however, completely flips the script on the song's attempts to objectify her.
Best line: "B-B-Big Sean, b-boy, how big is you?/ Give me all your money and give me all your residuals/ Then slap it on my ass, ass, ass"
2. "Timber" — Pitbull feat. Kesha
"Timber" was Kesha's last song before her legal troubles with Dr. Luke began in earnest, preventing her from recording. It's not the best way to go out, as the song is still a confused mash-up of Miami club and country. The only the thing that makes the song worth listening to by any stretch of the imagination is Kesha's hook. It has some stickiness to it despite Pitbull's attempts to make the song an unlistenable mess.
Best lyrics: "Let's make a night/ You won't remember/ I'll be the one/ You won't forget"
3. "Lift Off" — Kanye West and Jay Z feat. Beyoncé 
Surprisingly, Watch the Throne, Kanye West and Jay Z's collaborative album, holds up pretty well considering the absurd levels of hype that surrounded its release. One of the album's most profound stutters is its second track, "Lift Off." It has way more of a theatrical bounce than most hip-hop beats, and neither West nor Jay Z seem to know how to approach it. Beyoncé is the only one who actually made her contribution work, singing a memorable hook to save what would otherwise be a forgettable song.
Best lyrics: "We gonna take it to the moon, take it to the stars/ How many people you know can take it this far?"
4. "Post to Be" — Omarion feat. Chris Brown and Jhené Aiko
"Omarion, Breezy and yo chick," is how Chris Brown and Omarion introduce the performers on "Post to Be." Jhené Aiko doesn't even get a name. Her form of revenge is to steal all of the track's shine by spitting by far the most enjoyable verse. She stands up for her own pleasure in the bedroom and insists her man "gotta eat the booty like groceries." She'll make him do it.
Best lyrics: "I might let your boy chauffeur me/ But he gotta eat the booty like groceries"
5. "Fu-Ge-La" — The Fugees
Lauryn Hill dominates on "Fu-Gee-La," but basically any Fugees song could be swapped in here to make this same point. This is not to justify everything critics were saying around the time the Fugees' The Score dropped — that Lauryn Hill needed to go solo and ditch the dead weight — Wyclef Jean and Pras can absolutely hold their own as emcees. But when it comes to lyrical flexibility and versatility, they both come up short almost every time against Ms. Hill. 
Best lyrics: "In saloons we drink Boone's and battle goons till high noon/ Bust rap tunes on flat spoons, take no shorts like poom poom's"
6. "A Film Called (Pimp)" — Common feat. MC Lyte
On "A Film Called (Pimp)," Common plays a pimp trying to woo a slick, cutthroat lady — MC Lyte — into working for him. Their conversation has a metaphorical layer to it, with MC Lyte acting as the embodiment of the rap game as a whole. She doesn't understand why Common won't rock ice and jewels like the rest of hip-hop, and Common just wants to white knight her and save her from herself. Part of the song's shtick is that she's supposed to make him look like a fool, but her verses are the only parts of the song that actually have personality. It makes Common look like a bigger fool than he likely intended.
Best lyrics: "Ought to have you ho for me/ Pimp yo punk ass/ Have you write me poetry/ I'm from a lane called cash/ You too slow for me"
7. "Quiet Storm (Remix)" — Mobb Deep feat. Lil' Kim
It's easy to forget this is not a Lil' Kim track after her extended chorus-verse-chorus takes over the song's middle section. It's generally regarded as one of the best guest verses in hip-hop history. Her confrontational lines throw shade at every female artist who's tried to make a name for themselves by anything else other than the strength of their bars.
Best lyrics: "Bitches suck cock just to get to the top/ I put 100% in every line I drop"
8. "Love the Way You Lie" — Eminem feat. Rihanna
The first of Eminem and Rihanna's two extremely popular collaborations, the song helped put Eminem back on the map after his prior album received mixed reviews from critics and failed to produce a hit single. Without Rihanna though, the song would have likely been another bust. One can hear her past experiences being in an abusive relationship with singer Chris Brown in her pained voice. They lend her words a certain power and honesty. Rihanna later recorded a sequel to the song, "Love the Way You Lie (Part II)," which looks at the same broken relationship from a female perspective. It only proved further this is really her song at the end of the day.
Best lyrics: "Just gonna stand there and watch me burn/ Well that's all right because I like the way it hurts"
9. "Love Again (Akinyele Back)" — Run the Jewels feat. Gangsta Boo
What starts off as just another boastful, misogynistic hip-hop track is absolutely turned on its head when Gangsta Boo busts into the song's third verse. She flips the song's dick-centric hook into a refreshingly confrontational take on female sexuality, "He want this clit in his mouth all day." It should help remind the world that female emcees can posture themselves as sexual juggernauts just as compellingly as the genre's men, who have been doing it since day one.
Best lyrics: "He had a lot of bad bitches in his past/ But I was the one who turned that boy into a motherfuckin' man"