ISIS New York City Video Warns of Future Attacks on the Big Apple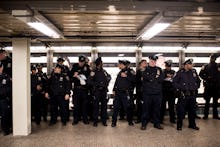 Authorities in New York City reassured residents late Wednesday the city is not facing an imminent threat from the Islamic State group, otherwise known as ISIS or Daesh, and will not be intimidated by terror. The message came in a press conference Mayor Bill de Blasio held at 11 p.m. Eastern after a new video from ISIS surfaced earlier that day that suggested that the Big Apple is one of the group's next targets.
"The people of New York City will not be intimidated," de Blasio said. "We understand it is the goal of terrorists to intimidate and disrupt our democratic society. We will not submit to their wishes."
The video comes five days after the terror attacks in Paris, which left at least 129 dead and hundreds others wounded. The attacks were coordinated among three groups, including at least nine suicide bombers and gunmen who opened fire at a number of locations in the city before detonating themselves. The new ISIS propaganda shows footage of New York City's famed Times and Herald Squares, interspersed with footage of French President François Hollande addressing France after the attacks. It also shows jihadists in the process of strapping themselves with explosives. The footage, says the New York Police Department, isn't new, and contains elements similar to those used in a video released back in April.
"This is an old video that was kind of rehashed," NYPD Deputy Commissioner John Miller told CNN. "This is ISIS doing what ISIS and al-Qaida and terrorist groups do, which is propaganda. When we see the video, we make note of it, but it's like a lot of videos we've seen."
The video can be watched here.