Viola Davis Shares How Sexual Assault Impacted Her Own Family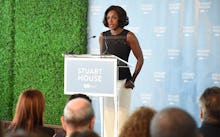 Viola Davis has never shied away from speaking the hard truth from the lens of her own experience — most notably by persistently skewering the discrimination and lack of diversity evident in her industry. On Tuesday night, however, Davis discussed another harrowing, serious issue that has impacted her life: sexual assault. 
Davis' story: "I have a sister, who, when she was 8 years old, put on some roller skates with her friend, went down to the corner store at one o'clock in the afternoon, went into the store and was sexually assaulted in the store," Davis revealed during a speech delivered to the Stuart House, a nonprofit program that serves the needs of sexually abused children.
After her sister told her mother, Davis recalled, her mother immediately ran to the store and berated the owners. 
"Leave that man alone," Davis said they told her mother. "He does that to all the little girls."
Davis' mother found a police officer who in turn found the perpetrator — but the damage was already done. Her mother and sister were both crying, she remembered, "and that was it." 
From that point on, "a precocious, very intelligent, very creative child grew up to be frail, angry, a drug addict by the time she was 20," Davis said, noting that her sister became an intravenous drug user and sex worker, having six children who were all taken by social services.
"You know, memories demand attention, because memories have teeth," Davis said at Stuart House. "You pray that she finds peace and love and happiness, she gets off drugs. And then of course you open your eyes, and you're like, she's still on the streets."
A widespread problem: About one out of every four girls are sexually abused before the age of 18, according to the Stuart House. While, perhaps unlike Davis' sister, 93% of child sexual assault victims know their attacker, 82% of survivors are also female, according to the Rape, Abuse & Incest National Network. 
And like Davis, many survivors face unique obstacles in adulthood, including guilt, shame, blame, low self-esteem and challenges in experiencing intimacy and healthy relationships, according to RAINN. Studies have also shown that childhood sexual abuse is a noted risk factor for later drug abuse.
But there's hope. It's a problem that organizations like Stuart House hope to better address. The program seeks to reduce the trauma abused children have already faced by making the process of seeking resources — which can include "intimidating and frightening" experiences, like visits to multiple agencies and repetitive interviews, in addition to inadequate physical and psychological care, their website states. It's the type of resource, Davis said, she wish her sister had been able to access.
"I wish I could tell my sister that she's not dirty, and that she should not feel any shame for something that she literally was not responsible for," Davis concluded. "I wish I could save her life."
h/t Jezebel
Get more stories that help you rethink the world by signing up for our daily email newsletter.