Adele '25' Leaked Songs From New Album Is Proof the Hype Can't Get Any Bigger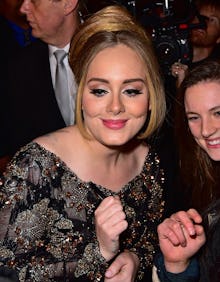 The heightened frenzy surrounding Adele's third album, 25, is one for the books — and the record hasn't even been released yet. Ahead of its U.S. release date on Friday, multiple outlets reported that two-minute clips of every song on the album were leaked online by a U.K.-based music retailer. Since then, the snippets have reportedly been removed, but not before Adele's army of fans took notice.
Then, on Thursday, fans' jaws collectively hit the floor when news surfaced that Adele would be making her first televised appearance since 2013, when she performed at the Oscars, according to the Hollywood Reporter. The BBC special, which is called Adele - Live at the BBC, will air Thursday in the U.K., boasts footage of Adele performing a selection of tracks off her album in addition to a sit-down with the artist to discuss her trajectory as a musician. 
BBC Worldwide has sold footage of the show to a host of international networks, according to the Hollywood Reporter, including television stations in France, Australia, New Zealand, Ireland, Belgium, Spain and Canada, to name a few. For international audiences, the title to watch out for is Adele - Live in London.
For more on the theme behind Adele's upcoming record, which is expected to be an undisputed chart topper, go here. According to Billboard, at least 3.6 million copies of the album will reportedly be shipped to the United States, which, if true would top any other album in the past 10 years. 
25 track list:
1. "Hello"